'When will this stop?' Number of juveniles shot in Cincinnati surpasses 2022, report says
Published: Nov. 6, 2023 at 2:28 PM EST
|
Updated: Nov. 6, 2023 at 5:24 PM EST
CINCINNATI (WXIX) - "When will this stop? Will this ever stop?"
These are the questions Isaac Davis shared on Sunday after learning that his 11-year-old son, Dominic Davis, was shot and killed on Friday night.
"How many people have to bury their kids, their babies, their loved ones? Look at his mother, look at me. You're not going to realize it until it happens to your family - until it happens to you," Isaac said
Dominic was a student at Cincinnati College Preparatory Academy. On Monday, the school released a statement about his death and a high school student who was also shot that night.
In response to the 11-year-old's death, CCPA says they will be offering mental health professionals at the school for students.
Cincinnati's NAACP also released a statement on Monday night, calling the incident "completely reckless" and calling upon the community to assist police with information.
Several rounds of ammunition were fired into a crowd of children in Cincinnati's West End neighborhood from someone in a dark-colored sedan. The gunfire managed to strike six people, five of whom were juveniles, Cincinnati Police Chief Teresa Theetge said.
"Twenty-two rounds in a moment... into a crowd of kids," Mayor Aftab Pureval said with dismay.
"A community full of life and energy is now forever changed," Pureval continued. "The West End is a community of families - of young kids. Children who grew up with and went to school with the victim call the same streets and parks home."
Since hearing about the shooting and the death of an 11-year-old boy, the West End community is trying to support each other in the best way possible while also trying to stay safe. Some have even made a memorial for the victims of Friday night's fatal shooting.
Juvenile shootings are up while shootings overall are down
There has been a shooting nearly every day in Cincinnati this year.
According to City Insights, 298 shootings have been reported between the beginning of 2023 to Nov. 3, and the majority of them are happening in districts 3 and 4. However, they are still down in comparison to previous years.
In addition, the city's data reported 57 juveniles have been shot this year, 7 of which were fatal. While these numbers do not include the West End shooting, police confirmed that an 11-year-old was killed and a 12, 13, and two 15-year-olds were shot.
The number of kids shot in Cincinnati in 2023 has already surpassed previous years. In 2022, 35 kids and teens were reported to have been shot and in 2021, 45 were reported shot, the report says.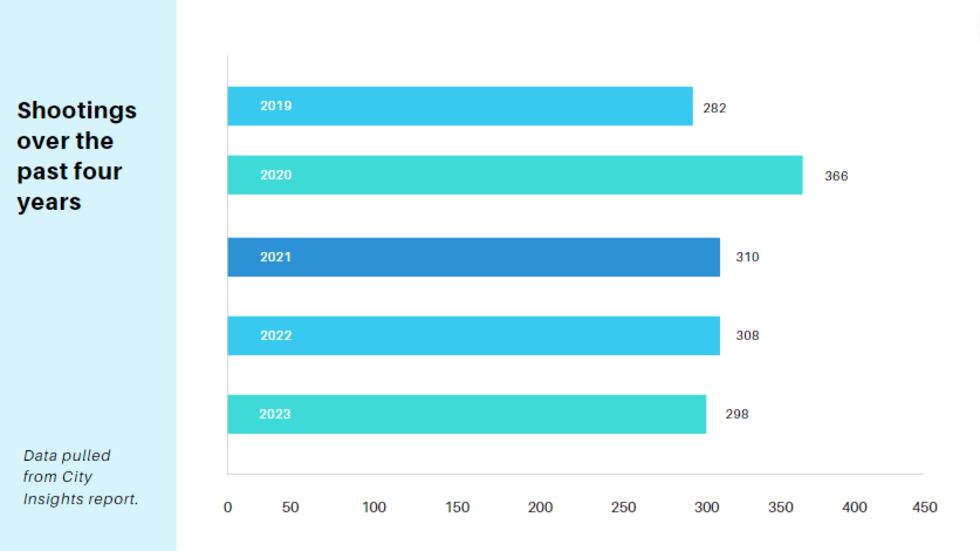 During Sunday's press conference, city leaders expressed their concern for not only gun violence but also gun safety.
"I am heartbroken and appalled by the violence we've experienced this weekend," City Manager Sheryl Long said. "Frankly, I've never seen anything like it."
The city official emphasized the importance of locking up firearms and mentioned that the city is giving out free locks to keep gun owners and the community safe.
"I, myself, have lost a family member to gun violence, and the horror of a life taken so quickly is something I will never truly comprehend," Long said with a tremulous voice. "The gun violence problem starts with guns themselves. If you own a firearm, it's your responsibility to keep it out of the wrong hands because this is what happens."
A shooting suspect(s) has not been identified yet as of Sunday's press conference, however, Chief Theetge was adamant about finding out who is responsible for the attack.
See a spelling or grammar error in our story? Please click here to report it.
Do you have a photo or video of a breaking news story? Send it to us here with a brief description.
Copyright 2023 WXIX. All rights reserved.