Lakota shake-up: Voters reject veteran board leader, elect 1 incumbent and a newcomer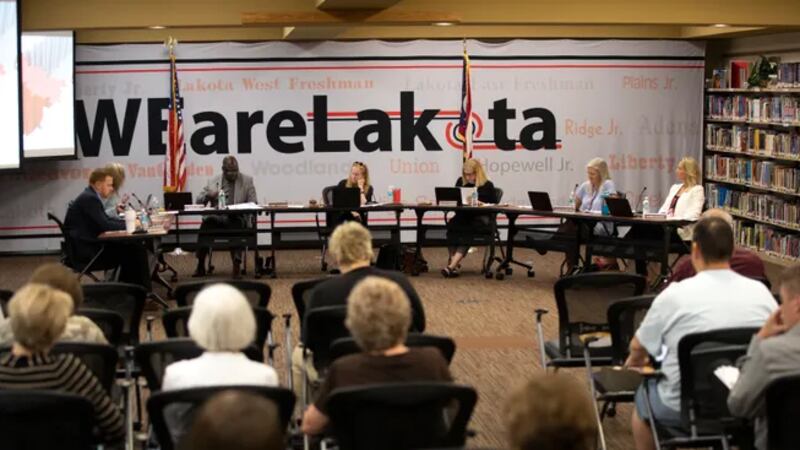 Published: Nov. 8, 2023 at 8:56 AM EST
LIBERTY TOWNSHIP, Ohio (WXIX) - Tuesday's election was a bit of a shake-up on the school board of the second-largest district in Greater Cincinnati.
The feuding Lakota School Board has been embroiled in multiple controversies since 2020 and the district recently received its worst state report card scores in years.
Voters rejected the longest-serving school board member who is the body's current president, Lynda O'Connor. She was first elected 15 years ago.
Voters, however, kept another longtime incumbent, Julie Shaffer.
In fact, Shaffer was the top vote-getter in the race, receiving 21,287 votes, or 34.29%, according to the Butler County Board of Elections.
She was first elected in 2011 and is the only current board member with children who attend Lakota schools.
Douglas Horton, a Lakota parent who ran and lost in 2021, is joining the board. He received 18,239 votes or 29.38%.
Both Shaffer and Horton were endorsed in a letter signed by 10 past Lakota school board members that says:
"The current discord and lack of civility at Lakota School Board meetings is a serious problem. It threatens to undermine the school district we all worked hard to rebuild. Negative local news coverage is diminishing our community's reputation, our property values, and the futures of our students.
"We cannot stand by and allow the Board's petty bickering over unsubstantiated problems to continue unchecked. The Board's focus needs to be on providing the students of Lakota with the best possible, well-rounded cost-effective education. Our community and its students expect and deserve this.
"Lakota needs strong and stable leaders NOW who can focus on the effectiveness of running our schools. School Board races have always been non-partisan; recent involvement of local political parties has led to members with no strong ties to this community and chaos on the current Board. Our community worked hard to build a quality local school district, and we do not want to lose it."
O'Connor received 11,755 votes, or 18.94%, and Russ Loges had 10,791, or 17.38%.
Horton has served for about a decade on the District Parent Council for Lakota.
His website says he's a brand builder at P&G with two children who attend Lakota schools.
Shaffer and Horton will be sworn in early next year.
School board members serve four-year terms.
Tuesday's election came after a very public battle on the school board moved into the courtroom this fall.
Board Member Darbi Boddy, who has been embroiled in much of the controversy since she joined the board in early 2022, is currently under a court order to stay 500 feet away from board member Isaac Adi at all times over the next two years.
Boddy can attend school board meetings while she appeals the stalking order as long as she follows strict rules outlined by a judge.
Adi and Boddy campaigned together in 2021 but he claimed in court records filed in August that he was under "mental distress" because their relationship "has deteriorated to the point that Ms. Boddy is "extremely aggressive toward me and has become very confrontational."
Boddy testified during a hearing in September over the civil protection order that she was calling Adi out publicly because she didn't think he was voting and acting as a conservative school board member should and the public has a right to know.
Her lawyer has argued in court that this case is really about "whether or not the court wants to take a young mother, essentially destroy her life, disenfranchise her constituents, and interfere with board politics by keeping her from representing conservative viewpoints in Lakota schools. It's that simple."
If Boddy loses her appeal, she could be removed from the board after missing meetings for three consecutive months.
Under current state law, public officials must be physically present at meetings to vote and be counted as part of a quorum.
School board members who miss meetings for 90 days and "each absence is found to be for reasons declared insufficient" by a two-thirds vote of the remaining board, can be removed and someone else could be appointed, according to Ohio Revised Code 3313.11 "Vacancy in board."
Last year, then-Superintendent Matt Miller came under fire and ultimately quit in January.
He was hired in 2017 after a national search. Miller left to join Butler County Educational Service as their coordinator of innovative education, taking a steep pay cut in the process.
A criminal investigation by the Butler County Sheriff's Office into second-hand allegations that originated from Miller's ex-wife found Miller violated no laws.
The district also paid for its own outside review that determined Miller broke no laws, district policy or his contract. And, O'Connor announced he passed a psychological examination and was deemed fit to continue leading the district.
However, the sheriff's office probe did confirm some of the allegations: Miller admitted to a sheriff's investigator in a recorded interview that he and his ex-wife had consensual sexual encounters with other consenting adults while they were married, a sheriff's report shows.
It also documented that he said they engaged in role-playing and "pillow talk" that on one occasion included a discussion about drugging, molesting and recording three juveniles, according to the sheriff's report.
Miller's resignation letter claimed Boddy created a "nightmare" for him and his family and the rest of the board did not protect him from "her harassment, which continues to this day," according to a copy of it provided to FOX19 NOW by his attorney.
Boddy called his resignation letter "very vengeful and false and full of misstatements."
She also Miller didn't have "the character and the ethics that we as a community would be proud of and expect of our superintendent."
In August 2020, then-Lakota school board member Todd Parnell abruptly quit - twice.
FOX19 NOW requested district and board emails.
Then, the district released public records that revealed Parnell was asked to step down after writing in an email response to Lakota West High School Principal Ben Brown "they should have shot them" related to West Chester police arresting two students earlier that day.
Brown forwarded Parnell's email to Miller and Lakota Senior Director of Diversity and Inclusion Elgin Card, writing: "This is very disturbing" and Miller alerted the board president at the time, Brad Lovell.
A district spokeswoman explained the school board initially decided not to make Parnell's email public out of sensitivity for his family, "particularly his children."
Parnell apologized to the community, writing in an email statement to FOX19 NOW he regretted his statements.
See a spelling or grammar error in our story? Please click here to report it.
Do you have a photo or video of a breaking news story? Send it to us here with a brief description.
Copyright 2023 WXIX. All rights reserved.