Burrow says things 'trending' toward his playing his best football ever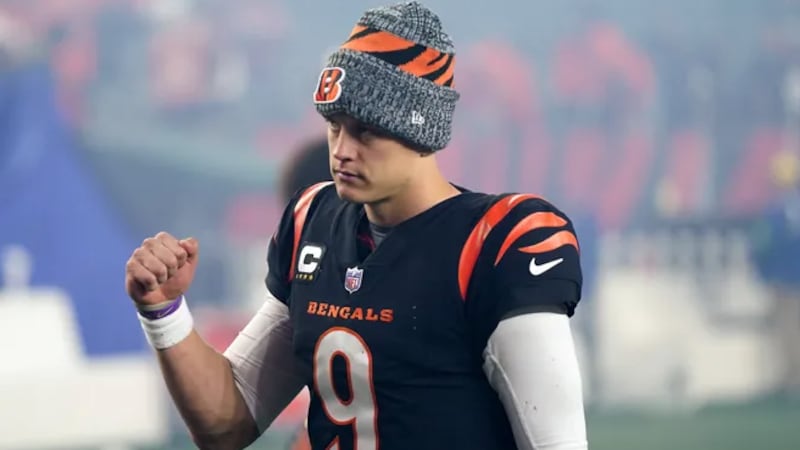 Published: Nov. 8, 2023 at 3:17 PM EST
CINCINNATI (WXIX) - Bengals quarterback Joe Burrow feels like things are "trending" toward his having the best year of his NFL career.
Burrow and the Bengals have been red hot, winning four straight games and getting back to what fans have grown accustomed to seeing.
The Bengals are coming off a 24-18 win against the Buffalo Bills on Sunday Night Football.
Burrow's primetime performance in Week 9 helped lead the Bengals to their fourth consecutive win.
In his postgame press conference, the star quarterback said he does not think about the win streak. He looks at each win as going 1-0 that week.
"We were 1-0 this week," Burrow said following his 348-yard, two-touchdown performance against the Bills. "We got to be 1-0 next week."
Burrow further explained there is a lot of the season left.
"This is only game eight," Burrow said. "We still got nine games left. We're 5-3 right now. We're in a great spot."
The Bengals doubled down on that statement Wednesday, saying again there's a lot of games left.
Cincinnati is not the only AFC North team riding a four-game win streak.
The Baltimore Ravens, who lead the division with a 7-2 record, have also reeled off four straight wins.
The division foes square off for the second time this season when the Bengals head to Baltimore for Thursday Night Football on Nov. 16.
Before the Bengals can seek to even the season record against the Ravens, they take on the Houston Texans (4-4) and Rookie of the Favorite C.J. Stroud.
Burrow said knowing why kind of guy Stroud, the rookie's performance is not surprising.
"He's playing really well," Burrow said of Stroud.
Sunday's game from Paycor Stadium between the Texans and Bengals starts at 1 p.m.
See a spelling or grammar error in our story? Please click here to report it.
Do you have a photo or video of a breaking news story? Send it to us here with a brief description.
Copyright 2023 WXIX. All rights reserved.