Legendary announcer Dick Vitale says his voice is still healing following cancer treatments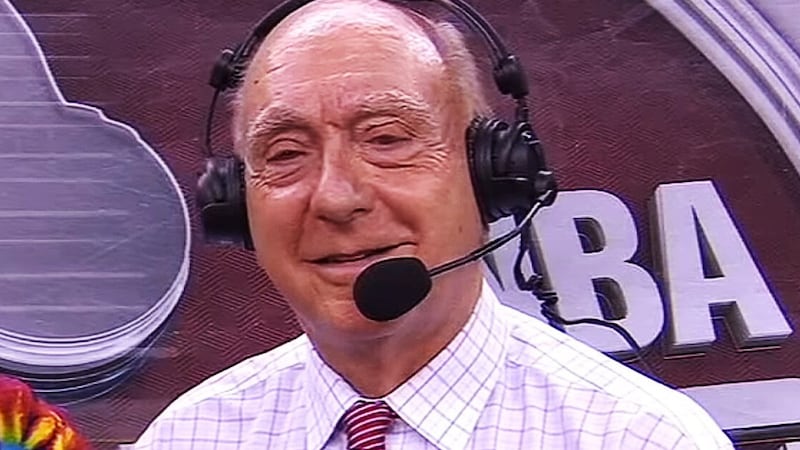 Published: Nov. 14, 2023 at 5:29 PM EST
(Gray News) - Legendary ESPN announcer Dick Vitale said this week that his vocal cord cancer is gone but he still needs more time to allow his voice to heal before returning to work.
"While I'm disappointed with the latest developments, I remain hopeful," the 84-year-old basketball analyst said in a statement to ESPN on Monday. "The cancer is gone, which is amazing news, yet the impact of the treatments has taken its toll on my voice and requires more healing."
The Hall of Famer was diagnosed with vocal cord cancer in July and had to rest his voice while he underwent radiation treatments. He previously underwent multiple surgeries to remove melanoma, a deadly type of skin cancer, and in 2021 was diagnosed with lymphoma, a cancer of the lymphatic system.
"With the season started, I am jumping out of my shoes to be back in the college basketball arenas, calling the game I love and being around so many great colleagues and fans. I have to listen to the medical experts, who have been so good to me, and with some more rest, I know I will be back for my 45th season," Vitale said.
On Tuesday morning, Vitale revealed on Twitter that although his cancer is in remission, he is seeking treatment for other issues that have arisen in his vocal cords.
"I had such expectations when I learned that the 35 radiation treatments wiped out the cancer on my vocal cords," the former coach wrote on X, formerly Twitter. "However due to the cancer & intense radiation, it created other problems on my vocal cords. I'm heading to see Dr. Zeitels in Boston on Thursday as I will keep fighting this battle to get my voice back."
Vitale has been a staple at ESPN since it launched in 1979, calling the network's first college basketball broadcast.
Copyright 2023 Gray Media Group, Inc. All rights reserved. TMX contributed to this report.