Cleveland Browns QB Deshaun Watson out for the rest of this season with a shoulder fracture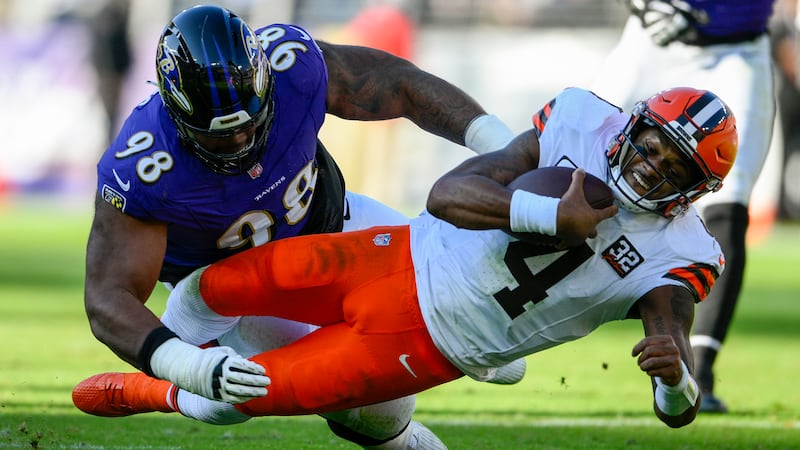 Published: Nov. 15, 2023 at 9:41 AM EST
|
Updated: Nov. 15, 2023 at 9:42 AM EST
CLEVELAND (AP) — Browns quarterback Deshaun Watson will miss the rest of his second season in Cleveland with a fracture in his right shoulder, an injury that came in his best performance since joining the team following a controversial trade.
Watson will undergo surgery to repair the shoulder fracture, which happened Sunday when he was hit in the first quarter at Baltimore. The team said an MRI revealed a displaced fracture to the glenoid.
Watson will go on season-ending injured reserve, a devastating blow to the Browns, who are in the playoff race and invested $230 million into the 28-year-old whose arrival seemed to end their long search for a franchise QB.
Now, Watson will have to work his way back from a shoulder injury with just three seasons left on his deal.
General manager Andrew Berry will speak to the media at 10:15 a.m.
The Browns traded three first-round draft picks last year to Houston for Watson, a three-time Pro Bowler who wound up being suspended for 11 games by the NFL after he was accused of sexual assault and harassment by more than two dozen women during massage therapy sessions.
Watson missed time earlier this season with a strained rotator cuff in his throwing shoulder, and it's not yet known if that injury contributed to the fracture. Team physician Dr. James Voos consulted with noted shoulder specialist Dr. Neal ElAttrache before determining a course of action.
During Sunday's game against the Ravens, Watson also injured his left ankle but insisted on staying in and completed 14 of 14 passes in the second half while leading the Browns (6-3) to a last-second 33-31 win.
The Browns (6-3) host the Pittsburgh Steelers (6-3) on Sunday.
When Watson missed time earlier this season — he was on the field for just 12 plays in four October games — the Browns started rookie Dorian-Thompson-Robinson one game and P.J. Walker in two games.
Coach Kevin Stefanski is expected to go with Walker the rest of the way, but the Browns could consider signing a veteran free agent. The team was criticized for not acquiring a proven backup before the trading deadline last month when Watson was hurt.
___
AP NFL: https://apnews.com/hub/NFL
This is an Associated Press story.
Copyright 2023 Associated Press. All rights reserved.