Father of July 4th parade shooting suspect turns himself in to begin jail sentence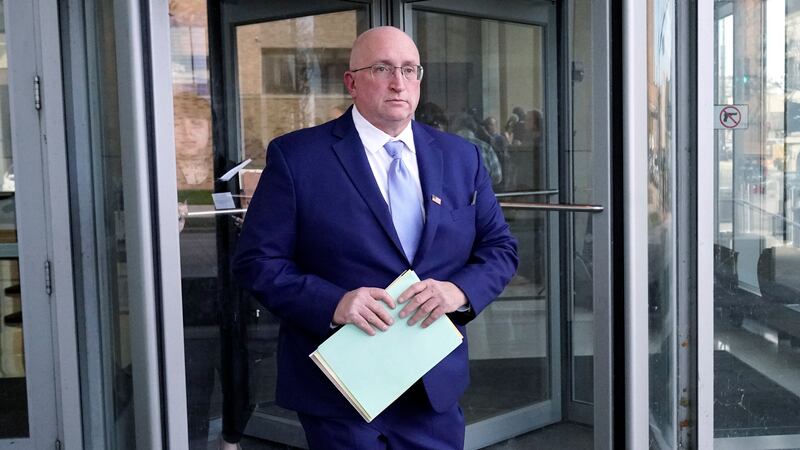 Published: Nov. 15, 2023 at 12:03 PM EST
|
Updated: Nov. 15, 2023 at 4:19 PM EST
CHICAGO (AP) — The father of the suspect in a deadly Fourth of July parade shooting in suburban Chicago turned himself in Wednesday to begin a 60-day jail sentence, but not before the judge reprimanded him for violating court rules.
Robert Crimo Jr. entered a guilty plea to seven misdemeanor counts of reckless conduct last week in Lake County court, in Waukegan, Illinois. Crimo sponsored his underage son's firearm application three years before the July 2022 attack in Highland Park, even though the teenager had recently threatened violence.
Crimo arrived at the Lake County courthouse wearing a white T-shirt with large black letters reading: "I'm A Political Pawn." The back said: "LAWS, FACTS, REALITY." He turned it inside out before entering the courtroom, but the judge threatened to hold him in contempt of court if he violated court rules again, according to his lawyer, George Gomez, who said he did not know what his client's shirt meant.
A court decorum order for the case prohibits any spectator from wearing or displaying a message that could affect the orderly administration of proceedings.
Judge George Strickland on Nov. 6 sentenced Crimo Jr. to 60 days in jail, two years of probation and 100 hours of community service, but agreed to wait until Wednesday to take him into custody.
Illinois offers most misdemeanor offenders the opportunity to reduce their sentence by half for good behavior, meaning Crimo Jr. may only serve 30 days. Although jail time will be brief, the case is significant because it is a rare example of a parent or guardian held criminally liable for the actions of an alleged mass shooter.
The judge also ordered Crimo Jr. to surrender his gun license and ammunition, and banned the former mayoral candidate from sponsoring firearm applications for minors.
Crimo Jr. had been originally charged with seven felony counts of reckless conduct — one for each person his son, Robert Crimo III, is accused of killing.
Prosecutors said a guilty plea with reduced misdemeanor charges was a good outcome.
"We've laid down a marker to other prosecutors, to other police in this country, to other parents, that they must be held accountable," said Lake County State's Attorney Eric Rinehart after Crimo Jr. was sentenced. "He knew exactly how dangerous it was for this 19-year-old to have a weapon."
But on Wednesday, Rinehart said Crimo Jr.'s decision to make a statement with the T-shirt raises questions about whether he feels remorse for "his reckless actions and the pain he caused."
"Mr. Crimo has every constitutional right to remain silent. Now, he has spoken and instead of taking any responsibility, he has shown unbelievable callousness," Rinehart said in an emailed statement to The Associated Press. "This callousness will follow him into the jail and beyond; it will follow him everywhere."
Crimo Jr. had no comment on his sentence or charges. Gomez said the plea was made in part to ensure his son received a fair trial, since details and evidence from the shooting would have been widely aired during a trial of his own.
Three years before the attack, the younger Crimo at 19 was not old enough to seek his own gun license, but could apply with the sponsorship of a parent or guardian. His father signed off on the application, even though just months earlier a relative reported to police that Crimo III had threatened to "kill everyone."
Crimo III faces 21 first-degree murder counts, 48 counts of attempted murder and 48 counts of aggravated battery. Prosecutors say he admitted he was the gunman when he was arrested hours after the shooting in Highland Park. A trial date is expected to be set on Dec. 11.
___
Savage is a corps member for the Associated Press/Report for America Statehouse News Initiative. Report for America is a nonprofit national service program that places journalists in local newsrooms to report on undercovered issues.
Copyright 2023 The Associated Press. All rights reserved.