Retail sales slip in October as consumers pull back after summer splurges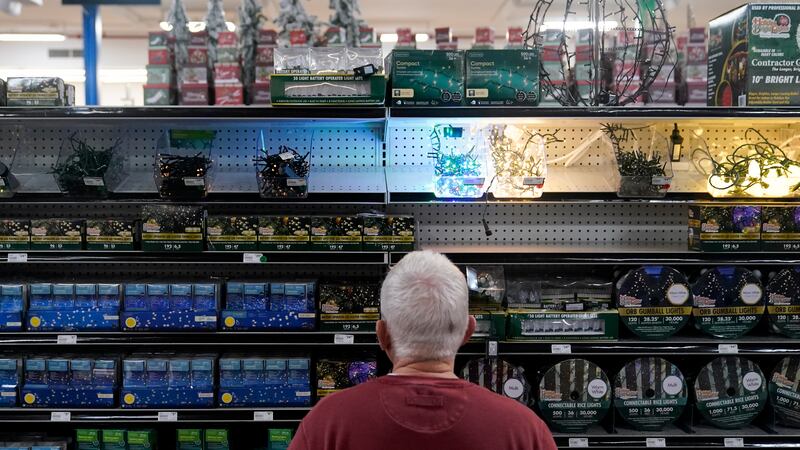 Published: Nov. 15, 2023 at 9:40 AM EST
|
Updated: Nov. 15, 2023 at 10:16 AM EST
NEW YORK (AP) — Americans cut back on retail spending in October, ending six straight months of gains, though the decline was partly driven by falling prices for both gasoline and cars.
Retail sales fell 0.1% last month after jumping a strong 0.9% in September, according to a report released Wednesday by the Commerce Department. September's figure was revised higher from an initial 0.7% gain. Excluding sales of gas and autos, retail sales ticked up 0.1%.
The figures reflect a slowdown in consumers' willingness to spend after a blowout summer. Consumer spending jumped in the July-September quarter, but economists forecast it will slow in the final three months of the year, as credit card debt — and delinquencies — rise and average savings fall.
Still, the decline was smaller than analysts expected. And excluding sales of autos, gas, building materials, and restaurant meals, the so-called "control group" of sales — which is used to calculate economic growth — rose 0.2%, after a 0.7% leap in September. The increase in control sales suggests consumers still have some spending power left.
"The October retail sales report was stronger than expectations, but confirmed a slowdown in consumption," Ellen Zentner, chief U.S. economist at Morgan Stanley, wrote in a note to clients.
Most retail categories reported a drop in sales, including gas stations and auto dealers, which partly reflected price declines last month in both categories. Sales at furniture stores fell 2%, and general merchandise sales — a category that includes large retailers such as Walmart and Target — dropped 0.2%. Sales at clothing stores were unchanged.
Online spending, however, climbed 0.2% last month, according to the report. Sales at electronics and appliance stores rose 0.6% and grocery store sales moved up 0.7%. Restaurants and bars reported a 0.3% sales increase, though that was much lower than September's 1.6% gain.
The figures aren't adjusted for inflation, but the price of manufactured goods ticked down last month and overall inflation was flat.
Sales at general merchandise stores fell 0.2% and sales at home furnishings and furniture stores plunged 2%.
Recent U.S. data has revealed that a surge in consumer spending has fueled strong growth and its resilience has confounded economists, the Federal Reserve, and appear to contrast the sour sentiments that Americans themselves have expressed in opinion polls.
Consumer spending may still take a hit with the resumption of student loan repayments, the persistence of high prices, and wars raging in the Middle East and in Europe. The moratorium on student loan payments lifted Oct. 1.
Inflation in the United States slowed last month, suggesting that the Federal Reserve's interest rate hikes have tamed price spikes that have burdened weighed on Americans for the past two years. But shoppers are still finding the costs of many services, notably rents, restaurants, and health care, continue to rise faster than before the pandemic.
And Americans are facing higher costs for mortgages, auto loans and credit cards, the direct result of the Fed's campaign against inflation. Retailers have reported an uptick in credit card delinquencies in recent months.
A slew of retailers including Walmart and Macy's will report third-quarter financial results over the next two weeks, offering a more detailed picture of consumer behavior heading into the Thanksgiving weekend, the official kickoff of the holiday shopping season.
On Tuesday, Home Depot, the nations' largest home improvement chain, reported that sales continue to slide as customers cut back on spending for big-ticket items like appliances, and spent less on big renovation projects. Target reported a hefty profit increase fueled by cost-cutting measures but posted a decline in quarterly sales. The company said Wednesday its customers have less discretionary income.
The National Retail Federation, the nation's largest retail trade group, expects shoppers will spend more during the 2023 winter holidays than last year, but their spending pace will slow given all the economic uncertainty.
The group forecast earlier this month that U.S. holiday sales will rise 3% to 4% for November through December, compared with 5.4% growth over the same period a year ago. The pace is consistent with the average annual holiday increase of 3.6% from 2010 to pre-pandemic 2019.
The government's monthly retail sales report offers only a partial look at consumer spending; it doesn't include many services, including health care, travel and hotel lodging.
Copyright 2023 The Associated Press. All rights reserved.