How a proposed dog park caused an uproar in a Cincinnati neighborhood
Published: Nov. 16, 2023 at 1:02 PM EST
|
Updated: Nov. 16, 2023 at 1:15 PM EST
CINCINNATI (WXIX) - Petitions, online discourse and public surveys have been floating around the Clifton Heights community for nearly a year after Cincinnati Parks proposed in January to build a dog park in Burnet Woods.
The project is something Clifton Heights residents, dog owners and environmentalists cannot find common ground on. Some local dog owners have expressed enthusiasm for the park as it could be a place for socialization, while activists believe it could create damage to the woods and possibly be a hazard to human health.
On Thursday, the University of Cincinnati student organization, UC Students for Burnet Woods, hosted a protest outside of the Cincinnati Parks Administration Building to show their opposition to the dog park.
Since 2018, the student group has been actively against any development that threatens the woods' ecosystem. One student member, Mackenzie Mason, told FOX19 NOW that as soon as they heard the word "turf," the majority of the organization disagreed.
What is Cincinnati Parks' proposal?
The 8,900 sq. ft. project is estimated to cost $450,000 and will be built along Brookline Drive off of Jefferson and Ludlow avenues. Amenities include a 5-foot-tall fence around the park, a double-fenced entrance, synthetic turf, a water source for the owners and their dogs, benches and concrete seats, a play mound and trash bins with free trash bags.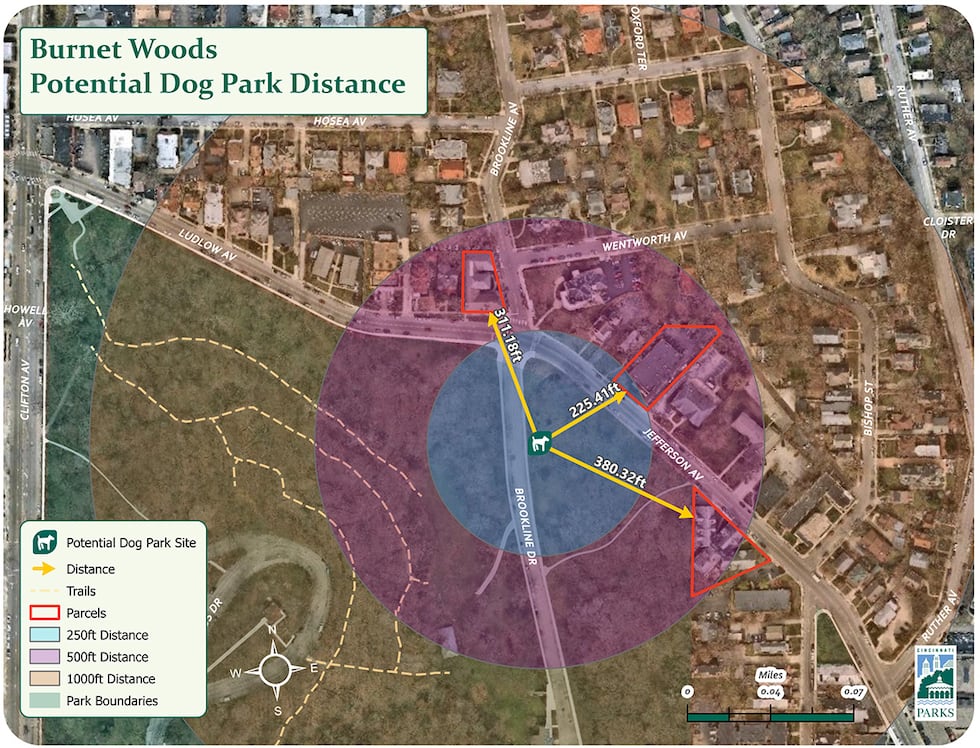 On Thursday, the commissioners gave a brief update as to when the dog park will begin construction. As of now, the project is in the planning phase, but crews will start in the spring and are expected to be done at the end of 2024.
"Cincinnati Parks is excited to bring this new park amenity to Burnet Woods serving the Clifton area. The dog park will provide a new recreation experience for area residents and their dogs, further contributing to the attractiveness and quality of life for visitors and residents of Clifton, Corryville and CUF," said Cincinnati Parks' Communications, Engagement, & Volunteers Division Manager Rocky Merz.
While some residents and dog owners are enthusiastic about the new area, concern continues to loom over the parks' plans.
Environmental concerns
Like the proposal says, synthetic turf will be installed in the new dog park - an issue most environmentalists cannot look past. Bob Hyland with Preserve Burnet Woods is one of them.
A few of the environmental concerns he listed include the following:
Destruction of urban green space, which he says is a needed tool in reducing "urban heat island effect in a time of global heating."

It would replace a natural area - that birds and pollinators often come to - with synthetic turf and concrete. Hyland says over 160 species of birds have been spotted in the woods in addition to deer, squirrels, coyotes, foxes, and more.

Surface temperature on sunny days could possibly increase up to 180 degrees due to the turf.

It would kill the soil beneath the turf, which Hyland says would further degrade the historic park.

It would diminish the ability to mitigate stormwater runoff, which can cause sewage overflows, degrade the water quality and destroy homes.
In addition, Hyland says that synthetic turf would introduce toxins, such as PFAS, also known as "forever chemicals," to Burnet Woods, dogs and their owners.
What are PFAS and will they appear in the dog park?
PFAS are chemicals used in manufactured consumer or industrial products, such as turf, according to the Environmental Protection Agency.
The chemical comes in different forms, and while research is still ongoing, environmentalists have determined exposure to PFAS can lead to several different health effects, including an increased risk of cancer.
"The more we learn about PFAS chemicals, the more we learn that certain PFAS can cause health risks even at very low levels. This is why anything we can do to reduce PFAS in water, soil, and air, can have a meaningful impact on health," the EPA wrote in a study.
Most people in the U.S. have already been exposed to the harmful toxin as it is found in common everyday items that have also been exposed.
Drinking water

Waste sites

Fire extinguisher foam

Facilities for chrome plating, electronics, textiles and paper manufacturing

Consumer products like stain or water-repellant

Food packaging

Biosolids, such as fertilizers

Food like fish that was caught in PFAS-contaminated water or livestock
Nevertheless, Merz assured that the turf being installed in Burnet Woods will be PFAS-free.
FOX19 NOW asked Hyland if it is possible for synthetic turf to be free of PFAS.
"All of the independent research I've seen has found PFAS in synthetic turf samples tested. The truth is, the only reliable way to know if any given piece of synthetic turf is free of PFAS would be for an independent lab to test that piece of artificial turf for PFAS as well as for total fluorine levels," he responded.
Why build a dog park & why in Burnet Woods?
A combination of events drove the concept of having a Clifton dog park.
Cincinnati Parks came up with the idea to install a dog park in Burnet Woods after a former UC student conducted a study in 2014 that detailed why a dog park in Clifton would be beneficial for the community.
"After approximating the number of dog owners in the area, we have determined that a dog park would provide the urban community of Clifton with a natural setting to bring their dogs. Dog parks are more than an area for just dogs, they provide a comfortable setting for human socializations," the student wrote.
In 2018, a Cincinnati resident, Cassandra Clement, began hosting monthly Clifton Pop-up-Puppy-Parties, and enthusiasm grew in the area.
Cincinnati Parks says they chose Burnet Woods to be the home of the new dog park for seven reasons:
It is relatively flat.

It is owned by the City of Cincinnati.

There is at least 10,000 sq. ft. available.

It is a walkable distance for residents in Clifton, Ludlow, Corryville and the CUF neighborhoods, but not too close to where it would be a noise issue.

It is close to parking.

The area of Burnet Woods that was chosen is "non-intrusive to other park users."

There is access to water.
Renovations for the new dog park will begin in the spring of 2024. People can view the proposal here.
See a spelling or grammar error in our story? Please click here to report it.
Do you have a photo or video of a breaking news story? Send it to us here with a brief description.
Copyright 2023 WXIX. All rights reserved.