Ken Squier, a longtime NASCAR announcer and broadcaster, dies at 88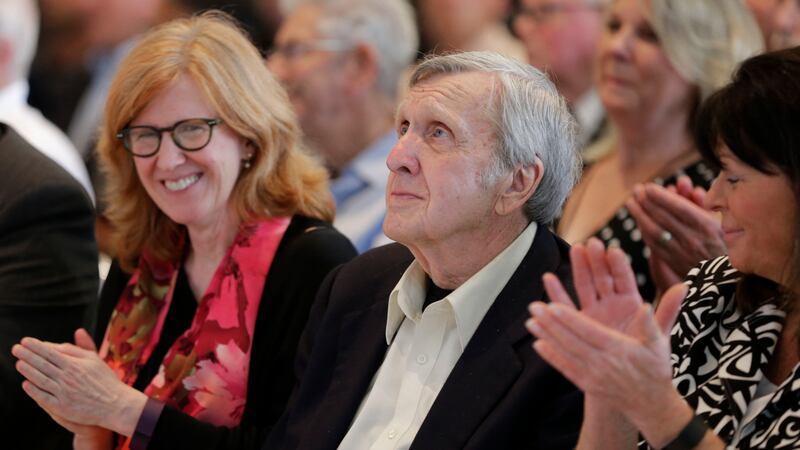 Published: Nov. 16, 2023 at 10:33 AM EST
|
Updated: Nov. 16, 2023 at 12:47 PM EST
(AP) - Ken Squier, a longtime NASCAR announcer and broadcaster, has died. He was 88.
Squier died Wednesday night in Waterbury, Vermont, according to the management of the local WDEV radio, which he owned.
"Though he never sat behind the wheel of a stock car, Ken Squier contributed to the growth of NASCAR as much as any competitor," Jim France, chairman and CEO of NASCAR, said in a statement. He called him a superb storyteller whose voice is the soundtrack to many of NASCAR's great moments.
"His calls on TV and radio brought fans closer to the sport, and for that he was a fan favorite. Ken knew no strangers, and he will be missed by all."
Hall of Famer Dale Earnhardt Jr. said he is forever grateful for Squier's "major role" is growing stock car racing.
"Ken Squier was there when Nascar was introduced to the rest of the world in 1979 for the Daytona 500. I'm convinced that race would have not had its lasting impact had Ken not been our lead narrator," Earnhardt posted to X, formerly known as Twitter. "We still ride the wave of that momentum created on that day."
Squier opened Thunder Road speedway in his home state of Vermont in Barre in 1960. Vermont Gov. Phil Scott, a stock car racer, called Squier "a true Vermont legend and dear friend to me and so many others."
Much will be made of "the NASCAR Hall of Famer's extraordinary contributions to racing — from his time in the booth at CBS, where he coined the phrase 'The Great American Race', to his founding of the 'Nation's Site of Excitement' at Thunder Road," the governor posted on social media. "His impacts on the sport are too numerous to count, and he deserves every one of those recognitions and many more. But for me, what I will remember most was his friendship and deep devotion to his community, which was the entire state."
NASCAR named its annual award for media excellence after Squier and broadcaster Barney Gall. Race fans felt like they knew Squier, whether they met him or not, said Winston Kelley, executive director of NASCAR Hall of Fame.
"While perhaps best known for his memorable last lap and postrace descriptions of the 1979 Daytona 500, he had the incomparable ability to so effectively articulate the human side of all NASCAR competitors," Kelley said in a statement. "Among his signature phrases, used at just the right time, was 'common men doing uncommon things' which helped audiences and we mere mortals understand the unique skills, risks and gravity of manhandling a 3,400 pound racecar at speeds in excess of 200 mph with 39 other snarling competitors entrenched around one another."
___
AP auto racing: https://apnews.com/hub/auto-racing
Copyright 2023 The Associated Press. All rights reserved.