Lakota school board member cited for violating court protection order to stay away from fellow board member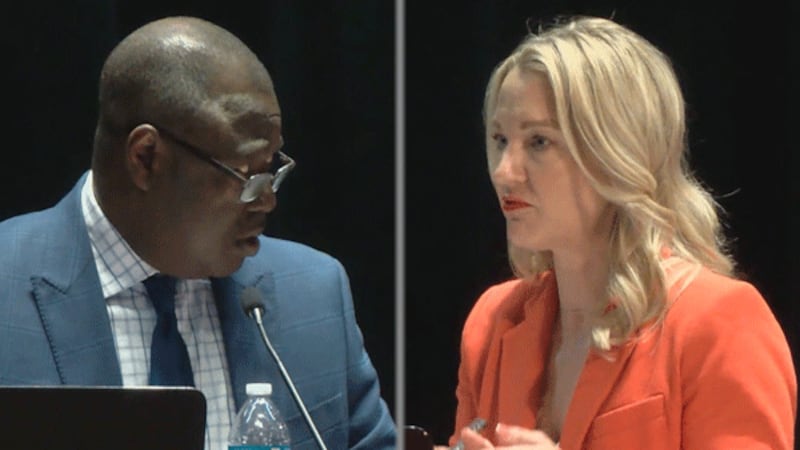 Published: Nov. 20, 2023 at 5:58 AM EST
|
Updated: Nov. 20, 2023 at 11:59 AM EST
LIBERTY TOWNSHIP, Ohio (WXIX) - The Butler County Sheriff's Office has cited Lakota School Board Member Darbi Boddy for violating the protection order requiring her to stay 500 feet away from fellow Board Member Isaac Adi, court records show.
It happened around 10:30 a.m. Friday morning while Boddy was in the board's safety committee meeting, which was held in executive session at Lakota Central Office building in Liberty Township, according to a sheriff's incident report and a school district spokeswoman.
After Boddy was cited, she left, according to the sheriff's office.
She is scheduled to appear next week in Butler County Area 2 Court. The hearing will begin at 8:30 a.m. on Wednesday, Nov. 29.
Violation of a protection order is a first-degree misdemeanor.
Anyone found guilty of violating a protection order in Ohio could be punished by being ordered to pay up to a $1,000 fine and serving up to six months in the county jail (180 days).
Meanwhile, the next school board meeting is 6:30 p.m. Monday night.
It's a special meeting at the Lakota East Freshman High School auditorium.
Butler County Auditor Nancy Nix will give the board a property tax update review and then there will be a presentation and board vote on the November submission of the district's Five-Year Forecast, according to Lakota's website.
Exactly one week ago, Ohio's Twelfth District Court of Appeals dismissed Boddy's request to overturn the protection order, which is in place for two years, until Sept. 20, 2025.
The three-judge panel wrote in their decision that she failed to object timely to a Butler County magistrate's Sept. 20 decision that granted the protection order before filing her appeal and she can't challenge it first and only in the appeals court.
That appeals process in the lower court, however, has now long expired, court records show. It required her to object to the magistrate's decision within 14 days.
Instead, her lawyer went right to the higher court and filed her appeal there, along with an emergency request to attend board meetings during the appeal.
The appeals court's administrative judge also denied the emergency request, writing in his decision that the proper court procedure was to seek that in the lower court.
Boddy's attorney did, and Butler County Common Pleas Court Judge Greg Howard promptly granted her emergency stay, under some strict requirements.
The sheriff's office clearly feels that is now over because they cited her for violating the protection order at the first board meeting since her appeal was dismissed.
Her lawyer, Robert Croskery, disagrees. He called the citation "a mistake."
He insisted in an interview last week after the higher court dismissed her appeal that she would still be permitted to attend school board meetings while she appealed the order now in the lower court.
"The Court of Appeals ruling effectively returns jurisdiction to the trial court, where we are filing today a Motion to Terminate the Civil Protective Order raising the same specific objections we have raised throughout this process," he said last week. "We remain confident that this Civil Protective Order will be terminated as improperly granted."
He remained steadfast on Friday when we contacted him after she was cited for violating the order.
"We believe the citation is a mistake, as no Appellate decision has reached the merits of this case, and are filing another Motion for clarification," he said. "In the meanwhile, Ms. Boddy will continue to fill her legislative duties to the citizens who elected her."
On Monday, Croskery announced former Hamilton County Common Pleas Court Judge Curt Hartman has joined Boddy's legal team. Hartman successfully sued Lakota last year related to their public speaking policy on behalf of a woman prevented from speaking during a Sept. 2022 meeting, court records show.
The case was settled with Lakota agreeing to pay the resident $637 and the district also agreed to cover her legal fees of $15,000. The district's public speaking policy also was changed.
"Darbi Boddy has been asked not to attend tonight's School Board meeting," her attorney said Monday. "We believe this to be legally wrong, as no Appellate Decision on the merits has been rendered, and the modification is in effect until a decision has been made on the serious problems with the Order.
"We are raising the same issues in a Motion for Clarification filed today with the Court, in addition to our previously filed Motion to Terminate. In the meanwhile, I remain as lead counsel, but we are adding respected former (Hamilton County) Judge Curt Hartman, a Constitutional Law expert, to the legal team fighting on behalf of Darbi and her constituents."
Boddy's citation Friday was the second time in five days last week she was accused of violating the protection order.
Adi's lawyer alleged in a Nov. 13 court filing that Boddy violated it by attending the same conference as Adi in Columbus and coming within 500 feet of him.
Boddy's lawyer has said Boddy and Adi were required to attend a taxpayer-funded meeting in Columbus to train school board members.
Adi's lawyer, Robert Lyons, is seeking contempt of court against her and requested a hearing in Butler County Common Pleas Court, according to a copy of his motion.
Lyons issued a prepared statement on Monday:
"Mr. Isaac Adi ran for election to the Lakota School Board because he wanted to help improve the school district for the benefit of the children. After he was elected and joined the school board, fellow board member Darbi Boddy began to harass, badger, and belittle him. She also was making false accusations and misrepresentations about Mr. Adi. Ms. Boddy's unwarranted actions and misrepresentations were disruptive to the school board and caused Mr. Adi emotional distress to the point it was detrimental to his health and his employment.
"With no indication that Ms. Boddy's attacks and misrepresentations regarding Mr. Adi would stop or diminish, Mr. Adi had no alternative but to seek court intervention for relief. Fortunately for Mr. Adi, the court granted Mr. Adi's petition for a protection order. Unfortunately, Ms. Boddy, apparently, does not feel that the court order applies to her, and has violated the order.
"Mr. Adi only wants to serve his constituents and perform the duties of the job to which he was elected, without being harassed by Ms. Boddy."
With this case now entering Butler County Area 2 Court with Boddy's citation on Friday, it's uncertain that Lyons can serve as Adi's lawyer in those proceedings.
Lyons is the sitting, part-time judge for Butler County Area 1 Court in downtown Oxford.
He was appointed in 1999 and has served in the area court ever since, for more than 20 years now.
In addition, Lyons currently is the presiding and administrative judge of all three Butler County Area Courts, including Area 2. Kevin McDonough is the Area 2 Court judge.
Like many part-time judges, Lyons also had a law practice. His firm has been located in West Chester Township for years.
Part-time judges are allowed to represent clients - as long as the cases are not in their own court jurisdiction, according to Ohio's Office of Disciplinary Counsel.
When we asked Lyons about this on Friday because Lyons is the presiding and administrative judge for all three area courts, he responded: "I obviously could not hear Boddy's criminal case, but Judge McDonough would not have a conflict so it can proceed in Area 2."
We asked the judge on Monday to let us know if he decides to seek an opinion about this from the Disciplinary Counsel and/or Ohio Supreme Court.
Read all the latest court records here:
Appeals Court Dismissal Entry
Darbi Boddy's Motion to Terminate Civil Protective Order
Isaac Adi's Motion For Contempt
Motion by Boddi's lawyer seeking clarification from Butler County Common Pleas Court to continue stay
Butler County Common Pleas Court Judge Greg Howard and Magistrate Matthew Reed's names are both stamped on the Sept. 20 civil stalking protection order that Reed wrote after he presided over a four-hour hearing the week prior.
Reed made it clear in his decision he believed Boddy was a problem and the order was needed to protect Adi:
"During the arguments of counsel," the magistrate wrote, "it was stated that granting a protection order on behalf of Isaac Adi as to Darbi Boddy would disenfranchise Boddy's constituents. The Court however finds that it was, and is, the behavior of Boddy that has disenfranchised her constituents. (Adi) has demonstrated, by a preponderance of the evidence, that (Boddy) knowingly engaged in a pattern of conduct that caused, and will continue to cause him mental distress.
Boddy's lawyer has argued that Ohio's stalking law is being used as a "sword" against Boddy to quiet her conservative voice and said she will "continue to place the needs of parents and children above those of special interests."
If Boddy violates the court order, she will be arrested "on site", the county prosecutor and sheriff declared in a joint statement in September.
Boddy was elected in the fall of 2021 and began serving in January 2022. School board members in Ohio serve four-year terms.
Under current state law, public officials must be physically present at meetings to vote and be counted as part of a quorum.
School board members who miss meetings for 90 days and "each absence is found to be for reasons declared insufficient" by a two-thirds vote of the remaining board, can be removed and someone else could be appointed, according to Ohio Revised Code 3313.11 "Vacancy in board."
Darby Boddy protection order
Adi and Boddy campaigned together in 2021 but he claimed in court records filed in August that he was under "mental distress" because their relationship "has deteriorated to the point that Ms. Boddy is "extremely aggressive toward me and has become very confrontational."
In his stalking order petition, he cited a series of events he said were harassing and impacted his health.
Adi testified in a Sept. 15 hearing that his distress over all of this resulted in his hospitalization in July after Boddy followed him out of an executive session in June, filming and confronting him, and he swatted her hand down to stop her from filming him, a court transcript shows.
She posted the video on Facebook and called him out, which he claimed added to his stress.
Boddy took the stand and gave sworn testimony about that encounter, the transcript states.
"I was leaving," she testified. "And -- and I can just go ahead and go through it right now, actually. I was leaving and I heard him following behind me. And so I turned around because, while we were in there, he said your brain is empty and was very verbally aggressive and attacking me. And so this has happened multiple times, and so I wanted to catch it on -- on video because I was tired of the way that he talked to me."
Boddy accused him of assault. The Butler County Sheriff's Office investigated and then presented the case to the Butler County Prosecutor's Office, who determined "it didn't meet the elements of assault, so we closed it out," Lt. Joe Fuller told FOX19 NOW earlier this year.
Adi testified in September that he was "rushed to the hospital and they took -- did every test. My blood pressure shot up. My system -- everything in my body was almost shutting down. And I was in the hospital for three days -- two nights and three days."
His attorney has said Adi didn't seek the restraining order until nearly two months after that June incident or even in July after his hospitalization because Adi was out of the country a great deal of the time.
At that September hearing, School Board President Lynda O'Connor, Board Member Shaffer and Assistant Superintendent Stacy Maney all took the stand for Adi and gave sworn testimony without being forced to via subpoena.
Last week's election, however, was a bit of a shake-up on the school board of the second-largest district in Greater Cincinnati.
The board has been embroiled in other controversies since 2020 and the district recently received its worst state report card scores in years.
Voters re-elected Shaffer, a longtime incumbent who is the only current board member with children in Lakota schools. She was the top vote-getter.
Board President O'Connor lost her first school board election in 15 years.
Voters chose to elect another candidate who currently has students in the district, Douglas Horton, who ran but lost in 2021 and has been a critic of Boddy.
Both Shaffer and Horton were endorsed in a letter signed by 10 past Lakota school board members that states:
"The current discord and lack of civility at Lakota School Board meetings is a serious problem. It threatens to undermine the school district we all worked hard to rebuild. Negative local news coverage is diminishing our community's reputation, our property values, and the futures of our students.
"We cannot stand by and allow the Board's petty bickering over unsubstantiated problems to continue unchecked. The Board's focus needs to be on providing the students of Lakota with the best possible, well-rounded cost-effective education. Our community and its students expect and deserve this.
"Lakota needs strong and stable leaders NOW who can focus on the effectiveness of running our schools. School Board races have always been non-partisan; recent involvement of local political parties has led to members with no strong ties to this community and chaos on the current Board. Our community worked hard to build a quality local school district, and we do not want to lose it."
PROTECTION ORDER:
ISAAC ADI'S PROTECTION ORDER PETITION:
TRANSCRIPT OF SEPT. 15 PROTECTION ORDER HEARING:
DECISION GRANTING PROTECTION ORDER:
See a spelling or grammar error in our story? Please click here to report it.
Do you have a photo or video of a breaking news story? Send it to us here with a brief description.
Copyright 2023 WXIX. All rights reserved.