'These are human beings': Cincinnati church holds Transgender Day of Remembrance service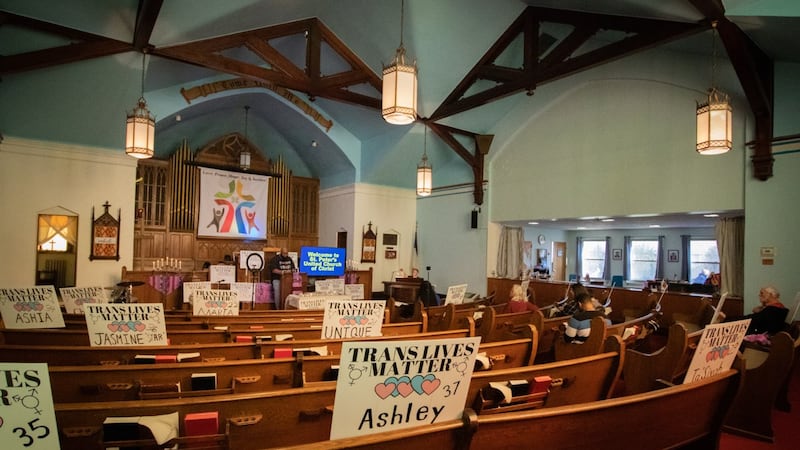 Published: Nov. 20, 2023 at 8:24 AM EST
|
Updated: Nov. 20, 2023 at 8:51 AM EST
CINCINNATI (WXIX) - Dozens of members of a tight-knit community sat in the old wooden pews of a Cincinnati evangelical church on Sunday to honor those who lost their lives from anti-trans violence.
On Sunday, St. Peter's United Church of Christ hosted its annual Transgender Day of Remembrance service with signs, flags and a sermon on faith, love, identity and how they go hand-in-hand.
"For all of the transgender and non-binary people who died from violence, we put [up a sign] with their name and age on it," explained Rev. Derek Terry. "We do this to keep that visual out there."
Rows and rows of signs with names and ages were displayed strategically throughout the chapel, each one signifying a transgender or nonbinary person who was killed in an act of hate in 2023.
"These are human beings that can't come to a service like this," Terry told his members. "This is why we set them outside - to let people know that these are human beings too."
This year alone, at least 26 transgender and non-binary lives were taken, according to the Human Rights Campaign, which has been tracking transgender violence since 2013. Of those killed this year, 88% of the victims were people of color and 52% were Black transgender women.
Two of these victims were from the Tri-State: 25-year-old Dominic Dupree, a Black non-binary entrepreneur who was shot and killed in Chicago, and Zachee Imanitwitaho, a Black transgender woman who was fatally shot leaving her work in Louisville, Kentucky.
"When people come to me and say, 'Why in the world would your small church, who has already been targeted for some of their stances in the past, do something when only 26 people have been killed this way? Why would you put that mark - why would you do this for such a small [number]?'" Terry said during the service. "All killing is bad, but we do this because these statistics show that there is even more of a problem within the problem of violence in our country. Because for years, when a trans person died, authorities would just write it off as part of their lifestyle - as part of their experience."
Legislation is something Terry touched on in his sermon as well, briefly talking about the uptick in anti-LGBTQ+ bills that have sprung up across the country.
The American Civil Liberties Union reports that there have been 508 bills proposed this year in the U.S. that included anti-LGBTQ+ rhetoric. The majority of these bills were either defeated or did not advance, however, 84 are currently in effect.
Indiana: 18 bills, three of which were passed into law.

Kentucky: 11 bills, two of which were passed into law.

Ohio: 7 bills, none of which were passed into law, but are all "advancing."
"Being LGBTQ+ in the current social and political time is brave and resilient," Terry explained. "We just want people to honor the humanity of other humans and stop the violence - not just physical violence, but words can be violent too."
Just before the service was over, the pastor called each victim by name and even affirmed several LGBTQ+ members.
After the service, each member grabbed a sign and placed it outside at the front of the church so passersby could see the pink, blue and white visual.
These makeshift headstones will stay out at St. Peter's United Church of Christ until March.
"You don't have to understand or agree with someone's identity, [...] but if you identify as a Christian, you are called to love everyone as God loves everyone," Rev. Terry said.
See a spelling or grammar error in our story? Please click here to report it.
Do you have a photo or video of a breaking news story? Send it to us here with a brief description.
Copyright 2023 WXIX. All rights reserved.