Tri-State veterans take last Honor Flight of the year
Published: Oct. 22, 2013 at 1:58 AM EDT
|
Updated: Oct. 22, 2013 at 12:25 PM EDT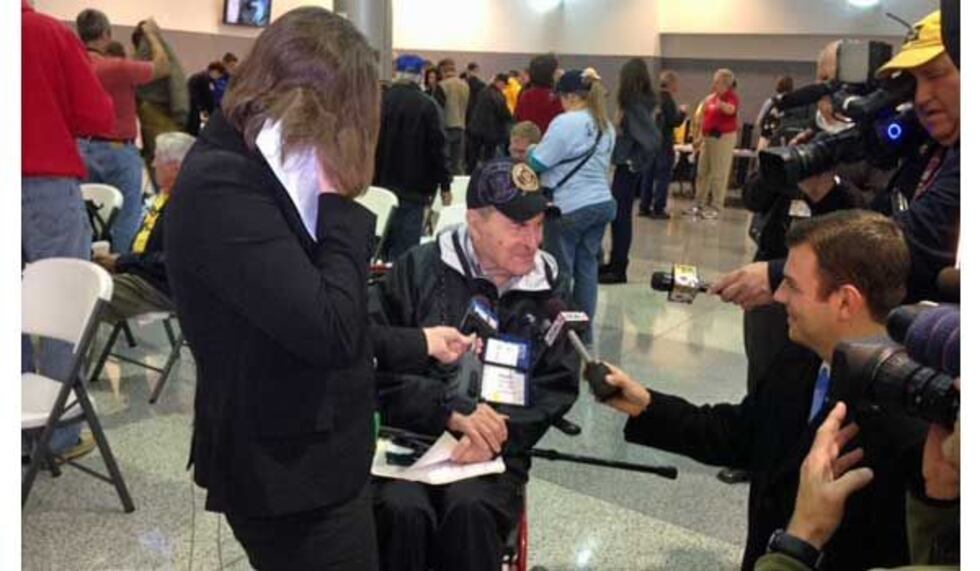 HEBRON, KY (FOX19) - Tri-State veterans and their guardians took the last Honor Flight of the year from Cincinnati/Northern Kentucky International Airport (CVG) Tuesday morning destined for Washington D.C. to view memorials and participate in ceremonies that honor their service to their country.
Honor Flight Tri-State is a non-profit organization with a mission to fly World War II and Korean War veterans to their memorials in Washington, D.C. at no cost. All veterans traveling on this flight are from the Greater Cincinnati, Northern Kentucky and Southeastern Indiana area.
Tuesday's flight, operated by US Airways, departed at 8 a.m. and was the fifth from CVG this year. It will include a full day of activities, with visits to the World War II memorial, Korean War memorial, Vietnam War memorial, Iwo Jima, and the US Air Force memorial, as well as other Washington D.C. sights.
"Our goal is to honor as many veterans as we can before it is too late," said Cheryl Popp, director of Honor Flight Tri-State. "If you'd like to help send off the veterans, please come to the airport at 6 a.m. or be among the many locals welcoming them home at 10 p.m. later that day. Let's make sure they know how much they are appreciated."
One of the 69 veterans on the flight was in the U.S. Navy during WWII, served as a medical surgeon with the Sino-American Cooperative Organization (SACO) and is also widely credited as the inventor of the Heimlich maneuver - Dr. Henry Heimlich.

Prior to their departure, bag pipes from the Hamilton County Sheriff's Department, an Honor Guard ceremony and other remarks near the security checkpoint took place for the veterans. Kentucky State Representative Addia Wuchner also made a special presentation.
"This is the fifth and final honor flight this year and we are very fortunate to have a role in showing our nation's true heroes how much their community appreciates their service to our country," said Candace McGraw, chief executive officer at CVG. "We want to do everything we can on our end to make sure this is a day these brave men and women never forget."
The next Honor Flight will be in Spring 2014. To contribute or volunteer for Honor Flight Tri-State, visit www.honorflighttristate.org.
Copyright 2013 WXIX. All rights reserved.