FOX19 Investigates: Grand jury indicts Judge Tracie Hunter
Published: Jan. 10, 2014 at 4:00 PM EST
|
Updated: Jan. 11, 2014 at 2:20 AM EST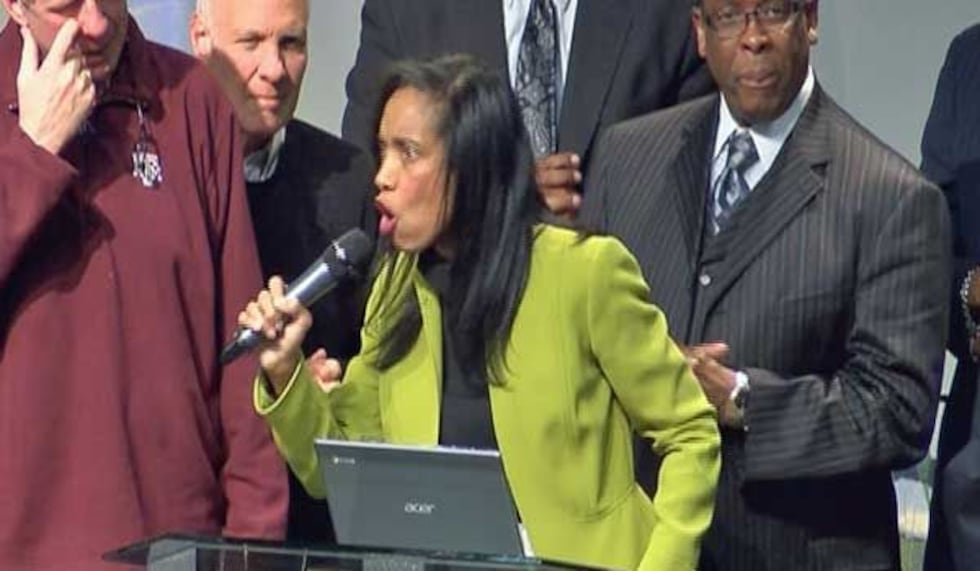 CINCINNATI, OH (FOX19/AP) - A Hamilton County grand jury on Friday indicted Hamilton County Juvenile Court Judge Tracie Hunter on eight charges.
The charges are two counts of tampering with evidence, two counts of forgery, two counts of having an unlawful interest in a public contract and two counts of theft in office.
Special prosecutors Scott Croswell and Merlyn Shiverdecker said in a statement Friday that the tampering with evidence and forgery charges involve the backdating of judicial entries to reflect that they had been created and signed on a certain date when in fact they had not.
The unlawful interest charge involves Hunter's unlawful conduct regarding her brother Steven Hunter's employment with the Hamilton County Juvenile Court, prosecutors say.
The theft charges are from Hunter's alleged unlawful expenditures of public funds to pay unauthorized filing fees with the Ohio Supreme Court.
The charges stem in part from allegations by a county prosecutor that Hunter backdated at least two court records in "a conscious act of deception" to prevent some of her rulings from being appealed and possibly overturned.
Hunter also is accused of using her county-issued credit card to pay court fees stemming from lawsuits against her, and ordering that her brother - who used to provide security for the court - be paid overtime.
The prosecutors said the investigation is ongoing and additional charges could be filed.
Croswell and Shiverdecker declined further comment.
Richard Blake, Hunter's Cleveland attorney, told FOX19's Lisa Hutson, that he hasn't seen a copy of the indictment. He said he's surprised and disappointed that the charges were filed before having an opportunity to meet with the special prosecutors.
"I have spoken with Mrs. Hunter and she is surprised and disappointed as well," he said.
The Ohio Supreme Court on Friday disqualified Hunter from serving as a judge while her case is pending. She will be paid her $121,350 annual salary while the case is pending.
Hunter's supporters are inviting the public to attend a meeting at 11 a.m. Saturday at Word of Deliverance Ministries, 693 Fresno Road in Forest Park, to strategize about how they will back her.
Supporters say they are outraged. Bishop Bobby Hilton called Hunter a woman of integrity and says the allegations against her are completely false. He even went as far as to take his frustrations to the national radio waves with Reverend Al Sharpton.
"The continued political assassination against her is ridiculous but, as you said Rev. Sharpton, the light is coming on and the roaches will scatter," Hilton said.
It is a political battle that Hunter has fought before taking office, Hilton says.
"Does anyone have a kitchen sink to throw? That is how I feel about what has happened today with Judge Tracie Hunter," says Hilton. "Everything has been thrown at here except for the kitchen sink."
Bishop Hilton, along with former City Councilman Cecil Thomas, believe the eight felony indictments handed down are a ploy from certain members of the Republican party to remove Hunter from office.
"I was not surprised when I saw, as the Bishop indicates, the kitchen sink being thrown because they are going to come to her and say well look if you step down and give up your judgeship we'll drop all the charges except some minor charge," says Cecil Thomas. 

Initially, Hamilton County Prosecutor Joe Deters called for two special prosecutors to investigate allegations that someone in Hunter's courtroom may have committed crimes by intentionally backdating documents.
Hunter's term has been full of controversy starting with a disputed general election on Nov. 2, 2010. Two weeks later on Nov. 16, the Hamilton County Board of Elections completed its count of provisional ballots with Hunter losing to John Williams by 23 votes.
Hunter sought a temporary restraining order preventing the board from certifying the election results. She eventually prevailed in federal courts and won the seat. She finally took office on May 25, 2012 -- 18 months after the November 2010 general election.
Hunter is the first African-American juvenile court judge in Hamilton County.

Her biography on the Hamilton County Juvenile Court's web site says that "Judge Hunter is a sought after inspirational speaker. She has provided the keynote address for innumerable corporations, organizations and churches. She has received countless awards, honor and recognition for her leadership, advocacy and service to the community."
Hunter earned a bachelor of arts degree from Miami University in 1988 and her law degree from the University of Cincinnati in 1992.
What's next:
Hunter will be arraigned at 8:30 a.m. next Friday in Hamilton County Common Pleas Court.
Related content:
Read the entire indictment here.
Supporters of embattled Juvenile Court Judge hold town hall
Judge Tracie Hunter passes out in court
Hunter wins vote count, a year and a half after the election
The Associated Press contributed.

Copyright 2014 WXIX. All rights reserved.
Copyright 2014 The Associated Press. All rights reserved. This material may not be published, broadcast, rewritten or redistributed.