'Fake' rock memorabilia sold at charity fundraisers
Published: Feb. 27, 2014 at 10:19 PM EST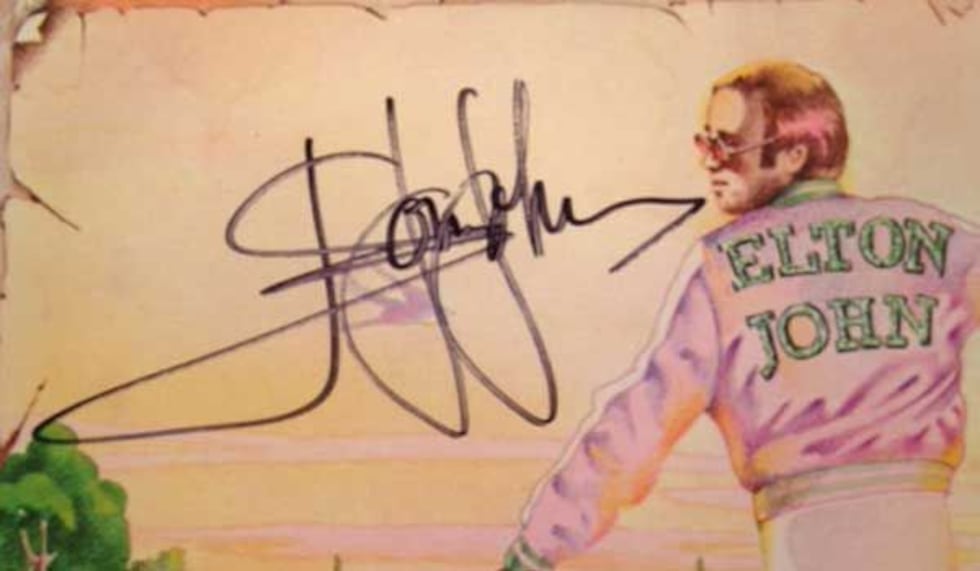 CINCINNATI, OH (FOX19) - Across America this weekend, in countless communities, local charities will be holding fundraisers to carry out good work in their communities. Many of those events will feature silent auctions, tables full of gift baskets and other goods and services donors can buy, with the proceeds benefiting the charities.
A national Fox19 investigation now reveals some of the highest-end items at these charity auctions may be fake.
"Hundreds of millions of dollars worth of fakes and frauds and forgeries are sold every year through charities," says Steve Cyrkin, editor and publisher of Autograph Magazine, based just outside Los Angeles. "And the charities don't know about it."
Huge Charity Foundation Shocked
In Cincinnati, one of the largest fundraisers of the year takes over the entire floor of the convention center. The Rusty Ball benefits 162 local charities and attracted 3,300 donors this year, according to its organizers.
For its six-year run, the Ball has featured a large assortment of autographed music memorabilia: guitars, framed CDs or albums, and posters featuring the signatures of all the members of Led Zeppelin, the Rolling Stones, Bruce Springsteen, Elton John, Pink Floyd, Guns N Roses and other such top acts. The individual charities acquire the goods to sell, more than two dozen items this year at hundreds to thousands of dollars apiece.
"We give to the charity on a regular basis every year and love it," said Matt Ring. He shelled out $830 for an electric guitar signed by the entire original lineup of the Rolling Stones.
"At the end of the day, the money's going to a great organization and great people," said Chris Beebe. He bought a $700 framed Bruce Springsteen "Born to Run" album, a $780 electric guitar signed by Springsteen and the entire E Street Band, and a $517 Van Halen "5150" album signed by the entire band.
FOX19 Investigates showed those signatures and others sold at the Rusty Ball to two leading national experts who judged the items to be forgeries. That includes items that came with certificates of authenticity.
The event's organizer says he and all the charities represented at the event had no any idea any items might be fake.
"We've researched who we do business with as an organization. We trust the people we work with. They guarantee the things they've submitted to us and it's a trust that's real,  so to hear that these certificates or items with certificates could be not legitimate, that's the disheartening part," said Steve Fritch. His popular '80s cover band The Rusty Griswolds originated the Rusty Ball "to help as many folks in our community in one night as possible. It is our hearts that make this thing happen."
Our process: How we evaluated the items
The autograph authentication business is all about opinion. Head online and you can find disparaging comments about just about everyone involved in the business, often from insiders speaking about their competitors. FOX19 sought out authorities recognized by major auction houses or memorabilia dealers and whose names came up repeatedly as possessing impeccable reputations.
We took high resolution photos of memorabilia donors bought at the Rusty Ball. We first showed more than a dozen items to Cyrkin. He's studied signatures for more than a decade, starting as a collector before becoming publisher and editor of Autograph. He's served as an expert for national news magazine shows among other venues.
"None of the signatures that you sent me were real, in my opinion," said Cyrkin. "I didn't see one real autograph."
To be doubly sure, we turned to the man Cyrkin calls the world's top authenticator of modern music autographs. Roger Epperson authenticates music autographs for Christies and Bonham's, two of the world's top auction houses. He also served as the music autograph authenticator for PSA/DNA, the largest authentication service in the United States. He's appeared as an expert witness for PBS, Fox News and other media outlets.
We flew Epperson from his home in Houston to Cincinnati, then had donors bring to our studio ten items they had bought at the Rusty Ball so Epperson could inspect them before rendering his opinion.
Matt Ring brought in that Rolling Stones guitar signed by the entire band. Epperson looked it over and said all the autographs "were signed by the same person, same pen stroke, same pressure, plus the signature does not have the shape or form of what a real one would look like. This one's definitely not authentic."
Same thing with Chris Beebe's three items. Three times, Epperson judged: "This one's definitely not real either."
It was a process that repeated throughout the day with item after item. Guns N Roses. Elton John. Led Zeppelin. Pink Floyd.
Pulling on Heartstrings
Dr. Joe Gromada bought that last one, an electric pink-colored Pink Floyd guitar with band signatures Epperson called forgeries. Gromada's not only a donor. He also runs one of the charities benefiting from the Ball.
"We have a foundation, and it's my son who died of cancer a year ago," said Gromada, "So we have used the Rusty Ball for a couple of years for a fundraiser, and it has been very lucrative for the foundation, upwards of $5,000 each year."
Gromada's surviving son is a huge pink Floyd fan, so the doctor decided to spend $2100 for the guitar to give as a gift to his son while supporting the cause.
"It has some legitimacy through the event and also something that has an emotional context to it, my son dying and my other son wanting this guitar. I'm disappointed to learn this," he said. "I still believe in the Rusty Ball. The fact that they've been hoodwinked a bit is sad."
"We as an organization don't feel good about our patrons being disappointed," said Fritch. "Anyone that's ever come to the event, we'll make things right for them. So if they see this story and they have some concern, they can contact us."
How Authentic are the Certificates of Authenticity?
On the backs of many of the signed guitars and framed albums, an attached envelope held a precious letter: the certificate of authenticity, or COA.
"It's crucial that it comes with that certificate," said Gromada. Without it, "I don't know that I would have paid even the original amount that they asked," much less $2100. The other buyers also repeatedly pulled out their COA's when they brought their items for Epperson to evaluate.
Both Cyrkin and Epperson say those COA's are just as fake as the items. "The letter of authenticity is only as good as the person who put their name on it," said Epperson.
The majority of those certificates came from a company that holds online auctions every month selling thousands of signed sports, entertainment and music acts' memorabilia. Coach's Corner runs out of a huge, yellowish stucco warehouse in Souderton, Pennsylvania. For weeks, we asked for an interview and finally set up a meeting with the general manager, Lee Trythall. But when we arrived, Trythall wasn't at the office. After several conversations, he agreed to meet us but only off camera.
Even though we showed Trythall a clearly labeled Coach's Corner "Certificate of Authenticity" he insisted, "We don't authenticate. We sell items already authenticated." Instead, he says they "certify that the item is real."
When we asked how he knows the signatures are real, he said ,"We don't… I'm not stupid enough to know all 4,000 lots are real, but most are" and for those that are not, he says buyers have 30 days to return the items and get their money back. In the case of charity auctions, most often the ultimate buyers can't meet that 30-day time frame, and all of the buyers in Cincinnati said they counted on the certificates they got, never questioning that their goods might be fake.
We then showed Trythall some of the same photos of items our experts evaluated. He looked them over and said they "may be authentic - To me it's not an obvious forgery."
Trythall touted 23 years in the memorabilia business with never an official inquiry by a public agency. Our public records search confirmed that fact, but we also found that eBay has banned Coach's Corner, refusing to allow it to sell on the site, and the Better Business Bureau has issued the company an "F." Trythall said "anyone not connected with eBay is banned" and did not respond directly to a question about the BBB.
Supply and Demand
Trythall says his company auctions items it consigns from individual sellers on a massive scale, 3,000 to 4,000 pieces a month. Epperson says it's impossible to sell that many real items because they're very limited, particularly signatures of entire bands like Led Zeppelin or Pink Floyd, some of whose members have passed away. Cyrkin adds that those who own such memorabilia buy it to keep it, so it rarely goes on sale. Trythall disagrees and says these items are plentiful and "easy to get.
He says that's why his company is able to sell memorabilia for hundreds of dollars apiece. But Epperson says real items cost much more. He says Ring's $800 Rolling Stones guitar would go for $6500 if it was real and Gromada's $2,000 Pink Floyd guitar "is way too cheap. They're that difficult to get. They've not been together for a long time. They don't like each other. Now one of them's dead."
In a business based on opinion, Trythall questions Epperson's. "I don't believe any authenticators. I don't know how he would know that." Epperson stands by his assessments "1,000%."
Epperson certainly passed a test the day of his Cincinnati appraisals. Among the memorabilia sat a guitar signed by the band Journey. Fritch personally had watched the band sign it. It was the one item Epperson judged to be authentic.
Multi-million dollar industry
Epperson and Cyrkin say the fake memorabilia business is much larger than the real memorabilia business, targeting charities around the country and around the world. "Of course the last thing a charity wants to do is to sell fakes to one of their wonderful donors," said Cyrkin.
Fritch says his organization is changing its procedures as a result of this investigation and will try to get out the word to all charities holding silent auctions. "In the world of charitable giving and people giving of themselves there are people in the world who will take advantage of that, and I think this story exposes some of those companies," he said. "Our goal going forward is to find out who we can trust."
Copyright 2014 WXIX. All rights reserved.