Taking the kids to GABP? Here's a parent's guide
Published: Mar. 31, 2014 at 1:01 PM EDT
|
Updated: Jun. 6, 2014 at 7:42 PM EDT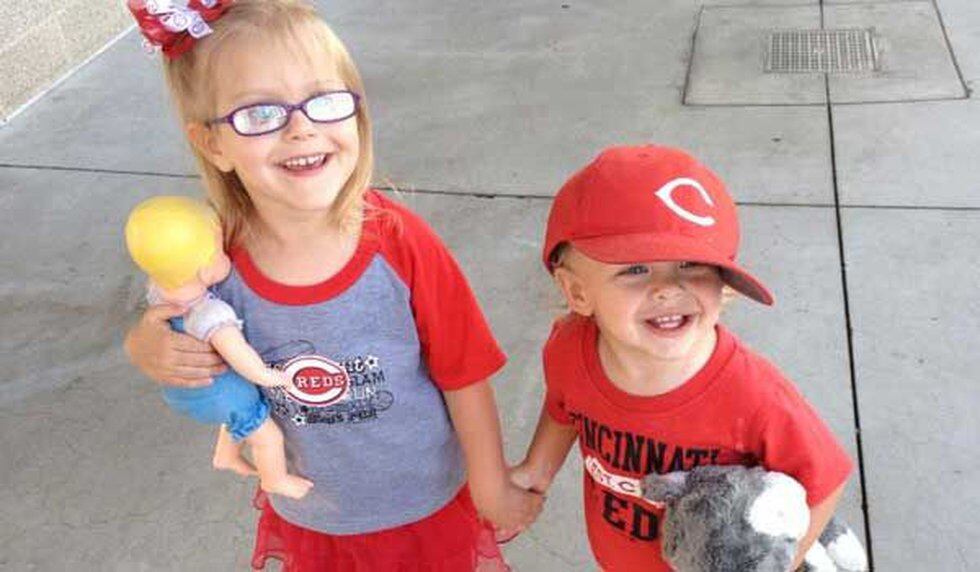 (FOX19) - A day at the ballpark can be a memorable experience, especially for families.
The Reds have several ways for families to enjoy a game at Great American Ball Park.
First, here's how to get tickets without breaking into the kids' piggy banks and your own bank account.
Reach Magazine Sunday Family Days are throughout the season starting April 13 against the Tampa Bay Rays. Each game has a giveaway item for children. Translation: that's a free souvenir!
Families can buy up to three non-premium tickets for half price with the purchase of one full-price ticket in the same section.
For a schedule of the family days, click here. 
OK, so you've purchased tickets.
Before you go to the game, you might want to pack some snacks and beverages. It's OK to splurge on a snack or two at the game (popcorn, a hot pretzel, lemonade) but kids love to eat all day!

The Reds allow fans to bring bags, backpacks, soft-sided coolers and purses into GABP. Dimensions cannot be more than 16 inches long, 16 inches wide and 8 inches high. These coolers and bags are subject to inspection before you enter GABP and at anytime once inside.
The Reds also permit soft drinks and water if they are in clear plastic bottles and the safety seal hasn't been broken.
Here's a parenting tip that works: Bring in bottled water and those small drink mix packets. Make the flavored water once at your seat. For smaller children, bring a sippy cup to pour the water from the bottle. My children love goldfish crackers, fruit snacks and pretzels.
OK, so you've entered GABP. The first pitch is about 30 minutes away. If it's your son or daughter's first Reds game, the club offers a personalized certificate for this special occasion. It's a terrific free keepsake. Ask an usher where to find the booth where the Reds make these certificates.
For some kids, it might be difficult to watch an entire game.
The terrace level at Great American Ball Park's west side (the side by The Banks) features the Kroger Fan Zone where children can play.
Here's a parenting tip that works: Arrive at GABP a little early, let the kids play in the fan zone before the game, wear them out a little and they might sit through the entire game or be napping on you by the 7th inning stretch.
In the fan zone, you can run the bases and play on a playground. There's also a Wiffle ball field, interactive games and the Bob Evans Reds Heads Kids Clubhouse. Kids love this stuff.
Clubs for young fans: The Reds have two youth fan clubs.

Reds Heads is for children 12 and younger. Membership is $25. It includes special ticket offers, player autograph sessions, running the bases and other perks.
You have start them out young as Reds fans. Reds Rookies is the team's official baby club for fans up to age 3 years. Membership is $14. It includes a bib, an on-field baby parade, a player/mascot photo session and other benefits.
Nursing moms: If you're taking a baby to the game and are a nursing mother, GABP has accommodations in its first aid stations. If the first aid stations are full, the Reds will find another private location for mom and baby.
Strollers: My advice is to leave the stroller at home if you can. GABP allow strollers as long they don't interfere with traffic flow inside the stadium, block aisles or aren't placed under your seat. Strollers not being used can be stored in fan accommodation stations. There are no strollers for rent.
Here's a parenting tip that works: During the game, teach your kids about baseball and the Reds. You might just be starting a new family tradition that generations have enjoyed or be holding a future Red in your lap!
FOX19 digital content producer Paul McKibben is the proud father two young Reds fans, ages 4 and 2. His childhood dog was named Sparky Anderson.

Copyright 2014 WXIX. All rights reserved.