Crash causes three-hour closure of Brent Spence Bridge, raises concerns about bridge's safety
Published: Aug. 4, 2014 at 11:30 AM EDT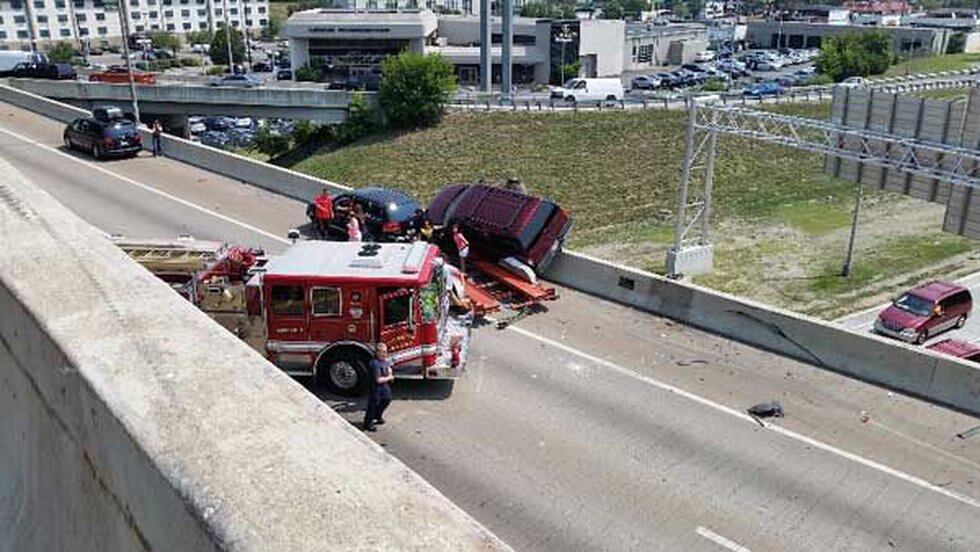 (FOX19) - A multi-vehicle accident reported Saturday afternoon on the Brent Spence Bridge closed Interstate 71/75 in both directions.

The crash was reported just after 12 p.m. involving eight vehicles, according to Covington police.
The northbound lanes of traffic reopened around 2:40 p.m., southbound lanes reopened at around 3:16 p.m.
Initial reports indicated that a semi-truck pushed an SUV from the upper deck to the lower deck of the bridge close to 5th Street. After the SUV fell onto the lower deck, two vehicles in the northbound lanes collided.
The driver of the truck told FOX19's Gordon Graham that he was in the right hand lane headed southbound when a car in the far left tried to take the 5th Street exit at the last minute.
Multiple emergency crews responded to the crash. A total of six people were transported to area hospitals for non-life threatening injuries

As a result, drivers were faced with delays on both the northbound and southbound sides.
The Brent Spence is a double decker bridge that connects downtown Cincinnati and Covington, Ky. by way of Interstates 71 and 75. The top deck carries southbound traffic while the bottom deck carries northbound traffic.
Covington Mayor Sherry Carran says she's hopes that the accident opens peoples eyes to the need for a new bridge.
"For those who say that a bridge can wait another two years, the decision to build a bridge can wait another two years is pretty frustrating and an accident like today it actually makes you angry," said Mayor Carran.
In 2011, a man was knocked into the river by a car while he was pushing his car on the bridge after he ran out of gas. Another driver stopped to help Abdoulaye Yattara, 42, push his car across the bridge but a van hit his vehicle and knocked Yattara into the water. His body was found the following day.
After that crash, Councilman Wendell Young announced that he wanted federal officials to install fencing or other safety measures on the bridge.
"By not installing basic precautions such as netting or fencing, the Federal Government is recklessly putting the lives of our citizens, not to mention our police officers and firefighters, in danger," Young said. "Accidents happen, but forcing both everyday people and our emergency safety officials to take unnecessary risks in order to assist people stranded on that bridge is absolutely unconscionable."
Saturday's collision is under investigation by the Covington police.
Copyright 2014 WXIX. All rights reserved.