FOX19 Investigates: Termites eat up local home after company uses bad chemical
Published: Nov. 4, 2014 at 11:02 PM EST
|
Updated: Nov. 6, 2014 at 9:33 AM EST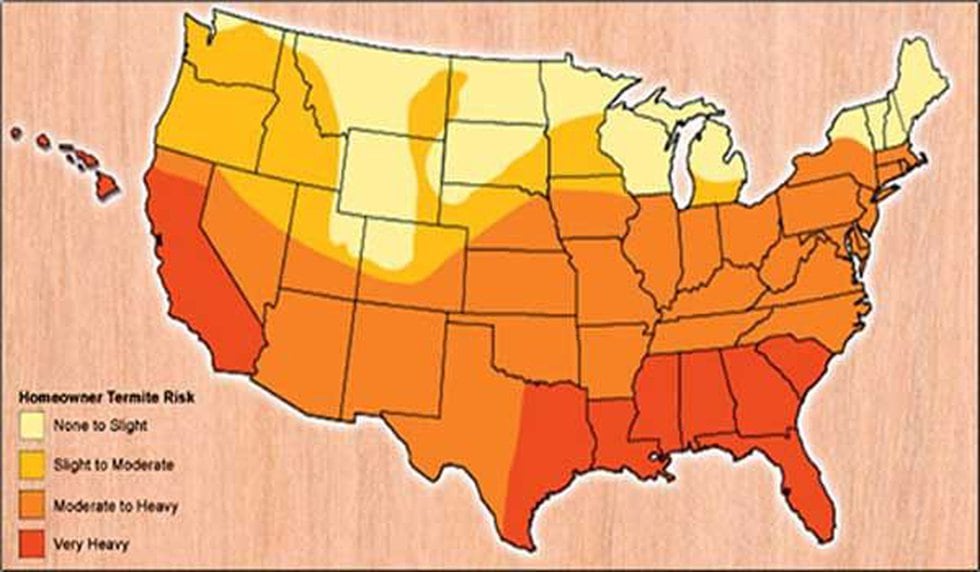 CINCINNATI, OH (FOX19) - A local lawsuit against a national pest control company could expose a problem facing hundreds of homeowners in Ohio and thousands across the country.
The suit alleges that Terminix used a chemical to treat termites that proved to be ineffective but then failed to retreat those homes. Terminix said it can't talk about the issue while it's under litigation.

Homeowner's termite nightmare

Mary Ellen Boutet of Reading paid Terminix $790 in 1989 to treat an infestation in her basement and signed a contract with an annual renewal fee to protect her home. For 24 years, she continued to pay as Terminix employees came annually to check her home to ensure there was no new damage or infestation.

"She just trusted that they were doing their job," said Tina Yelken, Boutet's daughter. "She did not have a lot of money but she made darn sure that she was going to pay that so her house would be protected.

When her mother passed away last year, Yelken continued to pay for the pest control contract as she prepared to sell the house. Then the first of two buyers under contract walked through the home with an inspector and found extensive termite damage throughout.
How can you spot potential termite damage in your home? The experts have these tips.

An Ohio Department of Agriculture inspector found "new damage" in the basement, crawlspace, family room, rear patio, rear exterior of the home, garage, front of the house and in the attic over the garage and family room.

When visitors peeled back the carpeting in the family room to expose the wood floors, they saw portions eaten to shreds.

"I was very angry," said Yelken, who lives in Georgia. "She was elderly and vulnerable, and she was divorced, so she didn't have anybody to have her back."
SLIDESHOW: See the damage done throughout the house by the termite infestation
What did Terminix know - and when?
When Yelken called the local Terminix office in Fairfield with the results of the home inspection, she said employees blamed the problems on "old damage" before 1989. This is significant because the contract excluded Terminix from responsibility for old damage. It only offered protection for "new damage… during the contract term" for which Terminix would "arrange for the necessary repairs and pay the cost of labor and materials."
Yelken hired former Ohio Attorney General Marc Dann, who partnered with the Campbell Law firm in Birmingham, Alabama. The firm has developed an extensive legal expertise in termite contracts.
Attorney Tom Campbell said one of the problems with the Boutet home harkened back to the initial infestation in 1989. He said Terminix used a chemical called Pryfon, with which it treated "tens of thousands of homes across the nation" in the late 80s and early 90s. He said Pryfon wore off "almost immediately," leaving homes vulnerable to new infestations.
Did Terminix know? The company's former Director of Compliance and Government Relations, Jim Maloch, testified in 2008 that Terminix knew within "two or three years" of 1989 that Pryfon was ineffective but didn't systematically go back to re-treat the homes it had sprayed with the chemical.
State: Annual Terminix inspections missed multiple infestations
But Dann said the problem goes beyond the initial treatment with Pryfon to the ongoing annual inspections for which Boutet paid to get peace of mind.
"The worst part is that they sent representative after representative out… making promises and reassurances, 'Don't worry. Everything's ok,'" said Dann. "And people don't know because they can't see what's going on under the floorboards of their house."
Dann said the damage at the Boutet home is so massive, it's clear the termites worked there for a long time. Two independent experts also confirmed that assessment.
Eric Scherzinger, the Sales and Marketing Manager of Scherzinger Pest Control, also walked through the home. He found damage in many of the home's support beams as well as the wood floors.
"You can tell the problem didn't happen overnight," Scherzinger said. "They were here for quite a while if you're seeing this type of damage."
How can you prevent termites from taking over your home? Read these expert tips.
The state agency in charge of regulating pest control companies investigated this case and reached the same conclusion. Not only did ODA Inspector Tim Anderson find termite damage "associated with recent infestations" after 1989, but said inspectors misled Boutet during her 24-year contract, issuing "inaccurate" annual reports that cited "no signs of activity" despite new damage.
Anderson said one Terminix technical specialist told him, "Someone 'dropped the ball' in handling the Boutet property."
Anderson concluded: "At least four Terminix inspectors issued misleading reports and made misleading statements regarding new damage. This appears to have been a pattern by company employees in an effort to minimize the company's responsibility to fulfill contractual agreements."
The lawsuit
"We were shocked," said Yelken. "They didn't do what they promised, and if she would have been here, she would have been devastated" to hear about the damage and the broken promises.
Yelken hired Dann after first contacting Terminix to fix the damage. The lawsuit filed in the Hamilton County Court of Common Pleas alleges substandard inspections, including a "drive by... where no actual inspection is done but company paperwork and computers fraudulently reflect an inspection was done." It cites one Terminix employee admitting to the ODA that "his inspection report was false." The suit accuses Terminix of 10 counts including fraud, negligence and deceptive trade practices.
Dann said he believes Boutet wasn't the only victim of such practices.
"We think there are literally hundreds of homeowners in Ohio who may be affected," he said.
Other lawsuits
Campbell said the cases across the nation could number in the thousands. A similar suit was filed in Arkansas in 2010 in which customers alleged the company didn't apply an effective chemical barrier. Other suits allege inadequate inspections and failure to abide by long-term contract terms or to provide promised services.
What Terminix has to say
Fox19 Investigates tried repeatedly to get Terminix to respond to this story, leaving multiple phone messages and emails. An unidentified person in the Fairfield office who said he was the manager said, "We're not talking about anything."
Corporate Terminix representatives in Memphis refused requests for an interview. Instead they emailed a statement through a public relations specialist: "As you can imagine, Terminix values its customers, and stands behind its warranties. Pryfon was a termiticide manufactured by Bayer Corporation that was previously used in the industry, and was approved by the EPA. Because the matter is in litigation, and involves an individual's home, it wouldn't be appropriate for us to comment on the specific facts of this situation. I'm sure you understand."
The statement doesn't address questions about national implications beyond the Boutet property.
For now, the house on Oldwick Drive in Reading sits empty. Two sales have fallen through because of fears over what else lies deep inside what Mary Ellen Boutet once called home.
Copyright 2014 WXIX. All rights reserved.