Local organizations team up to provide suitcases to foster children in the Tri-State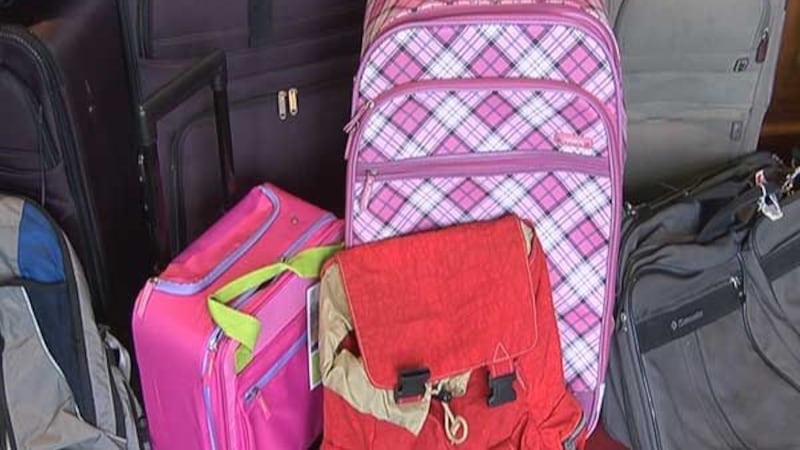 Published: Jan. 6, 2015 at 10:51 PM EST
|
Updated: Jan. 7, 2015 at 8:41 PM EST
HAMILTON COUNTY, OH (FOX19) - It's something that many of us take for granted but hundreds of children dream of--a suitcase of their own.
Cincinnati business owner Julie Whitney says that when she saw a news story earlier this year out of Virginia about foster children who had to carry their belongings in black trash bags, she was moved to tears.
"Not one of these children had ever known the simple joy of a suitcase, an item that each one of us takes for granted," said Whitney, owner of Phillippi-Whitney Communications. "What really moved me was the fact that the children stated that they themselves felt like 'garbage' when they carried their possessions in a trash bag as they moved in to their foster homes."
The news story had a happy ending though, as a restaurant owner organized a citywide suitcase drive to help provide the kids with much needed luggage.
That inspired Whitney. First she contacted Hamilton County Job and Family Services (HCJFS) who told her that about 900 children are in foster care locally, and, therefore, are in need of a suitcase. They also reached out to Butler County's 'Warm Welcomes' program which agreed to receive and disperse donated suitcases.
Whitney also teamed up with Sibcy Cline, which agreed to collect donations at each of their locations. Mark Bruns, Vice President and General Manager of University Moving and Storage, volunteered to provide trucks to pick up the suitcases from the Sibcy Cline locations and transport them to HCJFS.
"I love partnering with wonderful people who are doing wonderful things throughout the Greater Cincinnati community, and we are more than delighted to be a part of this endeavor that will bring happiness to so many of the region's foster children," said Bruns.

The "Cases For Love" drive kicked off Monday and will continue through Feb. 14. Residents of the Tri-State are asked to drop off new or like new suitcases of all shapes, colors and sizes to any local Sibcy Cline locations between 9 a.m. and 5 p.m. Monday through Friday. 

"These 'Cases of Love' will make a very difficult experience for our children go a little easier," said Moira Weir, director of HCJFS. "With 900 children in our care on any given day, you can imagine the logistics of moves can be emotional and overwhelming. This effort will make everything go a little smoother."

For more information visit the Cases For Love Facebook page. 

Copyright 2015 WXIX. All rights reserved.