FOX19 Investigates: Some local locksmiths aren't what they appear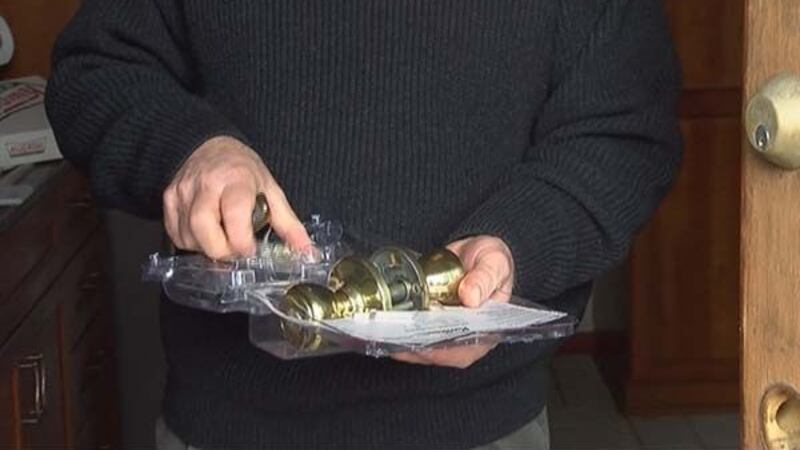 Published: Feb. 18, 2015 at 8:52 PM EST
|
Updated: Feb. 24, 2015 at 1:54 AM EST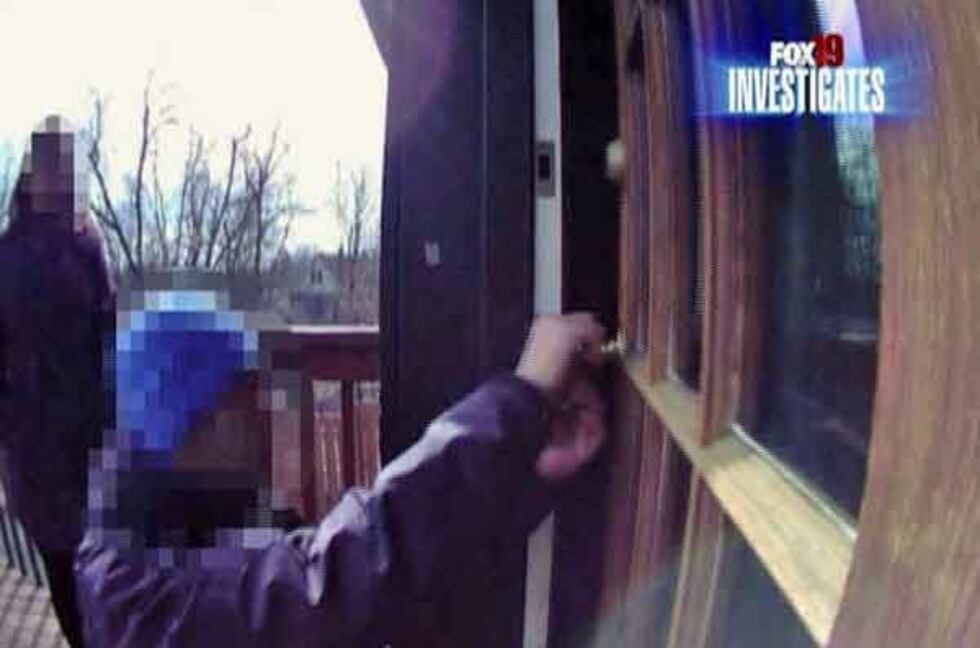 CINCINNATI, OH (FOX19) - It may have happened to you: you're locked out of your car or your house. You call a locksmith and trust they'll help for a reasonable price. But a FOX19 Investigates hidden-camera investigation exposed some locksmiths aren't what they seem.
FOX19 Investigates found some locksmiths who advertise as local are instead out-of-state call centers. In fact, the Ohio Attorney General recently sued one such locksmith company for deceptive business practices.
FOX19 Investigates installed hidden cameras all over a Green Township home. We concealed tiny cameras on the deck, inside a door jam and even the lapel of a producer's coat.
PHOTOS: Click here to learn how we did this and see behind-the-scenes photos
We had a long-time Indianapolis locksmith, who also served on the board of the Society of Professional Locksmiths, install a common, inexpensive lock on the home's back door. The lock, he said, would be easy for a trained locksmith to pick in a few minutes and should cost around $75.
A FOX19 NOW producer then posed as the locked-out homeowner. She called a number of Cincinnati locksmiths found in an online search on her smartphone. One by one, locksmiths showed up. We were charged anywhere from $64 to $169 for the technicians to bypass the lock. It took some seconds, others a few minutes.
But what was most striking was that while the locksmith sites advertised local phone numbers, in several cases, we were routed to dispatchers at out-of-state call centers.
"In fact, I don't have any trouble calling it a scam," said Ken Puthoff, of Larry's Lock, Safe and Security Center, a Cincinnati locksmith company in business since 1968. He believes out-of-town call centers are tricking local consumers. "When you first talk to them, you may be quoted a very low price. Then they arrive and the price went up. What they do is recruit people to work in a local market and those people may not be trained. They very likely are not insured or bonded."
READ: Attorney General's lawsuit complaint
Last week, Ohio Attorney General Mike DeWine won a default judgment in a 2014 lawsuit against an Oregon-based locksmith company. The lawsuit had charged Add Source LLC, AdSource LLC, 24/7 Locksmith Advertising LLC, and the businesses' owner, Yossi Assaraf, with violations of Ohio's Consumer Sales Practices Act. In the lawsuit, the Attorney General sought consumer restitution, an injunction to stop further violations and civil penalties.
"This is classic bait and switch," DeWine remarked in a press release shortly after the lawsuit was filed last October. "Consumers are lured in by the low initial price but then charged much higher rates. They also think they are working with a local company when that is not the case. These kinds of operations take advantage of consumers and unfairly undercut local, honest businesses."
According to the press release from the AG's office, Assaraf and his companies create and operate numerous websites advertising locksmith services in Ohio. Some of the websites include: 247-locksmithcolumbus.com  247-locksmithcincinnati.com;daytonlocksmith.org  dublin-locksmith.com  ketteringlocksmith.org. The lawsuit argued the companies advertise on Internet search engines, such as Google, and appear when consumers search for a locksmith in their city.
Although the companies appear to be local, consumers who call the businesses are directed to an out-of-state call center that takes calls from throughout the country. The call center then sends a referral to a contracted individual locksmith or locksmith company where the consumer is located.
The AG argued Ohio consumers were misled, often told the cost of picking the lock would be $19 but were charged much more.
One of the locksmiths our producer called, 24/7 Cincinnati Locksmith, has a website nearly identical to the Cincinnati locksmith website named in the lawsuit. The only differences were the phone number and the service charge listed was $15 instead of $19.
When our producer called, the dispatcher quoted her a $15 service charge and an unspecified labor charge. The locksmith arrived, picked the lock within a few minutes and charged our producer $169.
When we confronted the technician, he told us, "Everyone knows that locksmith is expensive service."
When we asked him for specifics about his company, including a local address, he evaded the questions and would only say, "Downtown Cincinnati."
READ: Attorney General lawsuit judgment
As for the Ohio Attorney General's lawsuit, on February 11, 2015, a judge granted the state a default judgment in the case. Under the judgment, the defendants had seven days to pay $50,000 in civil penalties to the Ohio Attorney General's Office and 14 days to change the websites to comply with the Consumer Sales Practices Act or take them down. A spokesperson with the AG's office told FOX19 Investigates if the defendants don't comply, the AG will proceed to enforce.
During our investigation, FOX19 Investigates also exposed a potential safety concern. Two of the locksmiths we called, including the one who charged $169, did not ask our producer for identification or proof she lived at the house.
"It gives a bad impression of the overall industry and it underestimates the true professionalism that exists," Puthoff said.
While a handful of states have locksmith licensing programs, Ohio, Kentucky and Indiana do not require locksmiths to be licensed. The Ohio Attorney General has a list of tips for consumers on how to find a reputable locksmith.
READ: Attorney General tips for finding a reputable locksmith
Consumers who suspect an unfair or deceptive business practice should contact the Ohio Attorney General's Office at 800-282-0515 orwww.OhioAttorneyGeneral.gov.
Copyright 2015 WXIX. All rights reserved.