Terror suspect Christopher Cornell: "I'm so dedicated that I risked my whole life"
Published: Mar. 7, 2015 at 12:37 AM EST
|
Updated: Mar. 10, 2015 at 2:17 AM EDT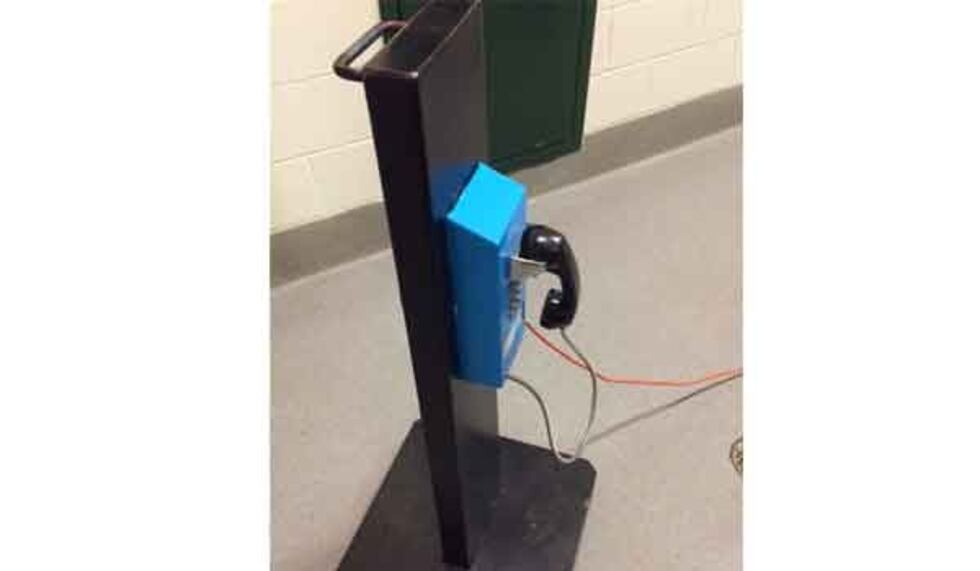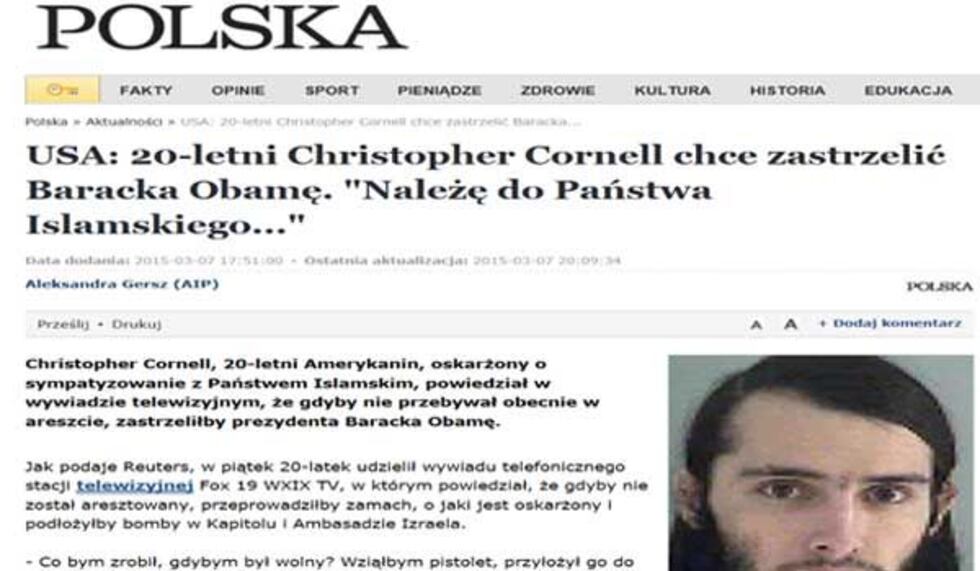 CINCINNATI, OH (FOX19) - The Green Township terror suspect has opened up about his plot to attack the U.S. Capitol.
Christopher Cornell, 20, spoke from his jail cell on last Wednesday saying if he had a chance would have followed through with his plot to bomb the Capitol and would have put a gun to President Barack Obama's head.
"I would have released more bullets on the Senate and House of Representative members and I would have attacked the Israeli Embassy and various other buildings," Cornell said.
The Green Township native was arrested by Federal Bureau of Investigation (FBI) agents outside the Point Blank Range and Gun shop on Harrison Avenue in Colerain Township after buying firearms and 600 rounds of ammunition on Jan. 14.
During the hour-long conversation with Tricia Macke, Cornell, 20, referred to himself as Raheel Mahrus Ubaydah.
"I'm with the Islamic State,"
. "I'm very dedicated to establish the Sharia in America, to wage war on the kafr (an Islamic term for 'unbeliever') and raise the word of Allah above all."
"I'm so dedicated that I risked my whole life," Cornell said.
Confession of the alleged plot
Cornell is accused of plotting with an FBI informant to plan an attack in Washington, D.C. that included planting pipe bombs around the U.S. Capitol and the Israeli embassy with the intention of then shooting people as they ran from the buildings to escape the bombs.
"The planned attack against the United States Capitol, the event in which I planned, was but a reaction to the continued American aggression, injustice and oppression against our people," Cornell said in the interview.
"I got orders from the brothers overseas because I'm with the Islamic State. My brothers over there, in Syria and Iraq, gave me specific orders to carry out jihad in the west, so I did so," said Cornell.
According to court documents, a confidential FBI source began to contact Cornell last August, who responded via instant message that he had been in contact with individuals overseas but he did not believe that he would receive authorization to conduct a terrorist attack in the United States.
Cornell allegedly told the informant that they should go on with the attack.
"I believe that we should just wage jihad under our own orders and plan an attack," Cornell allegedly told the informant, according to court documents.
Cornell met with the FBI informant Oct. 17 and 18, and again Nov. 10 and 11. Federal authorities said he discussed how they would build, plant and detonate pipe bombs at the U.S Capitol. Then, he U.S. the informant would shoot and kill employees inside.
Cornell showed the informant on his computer that he researched how to construct pipe bombs and the cost of the guns they would buy for the attack.
According to court documents, under the name Raheel Mahrus Ubaydah, Cornell posted videos and statements supporting ISIS and violent jihad in North America.
The threat was 'credible;' Cornell was a 'lone wolf'
University of Cincinnati's Dr. Richard Harknett, who heads the political science department and whose research includes international security, said Cornell comes across as credible.
"I don't think there is any inconsistency in the way he responds to indicate that we shouldn't believe that in fact he was going to act on this," said Harknett.
Geoffrey Mearns, Northern Kentucky University President and former prosecutor in the Timothy McVeigh case, called Cornell a "lone wolf" and said this incident showed the power of social media and the ability convince someone to attack.
Retired Colonel Larry C. James, Ph.D. agrees. From Guantanamo Bay to Abu Ghraib, the Army psychologist has delved into the minds of the world's most dangerous terrorists, and has years of experience interviewing terror suspects like Cornell.
James said Cornell fits the mold of a homegrown terrorist who became radicalized through the internet, saying Cornell's admitted intent to harm fellow American citizens is what makes him a danger to society.
The state of the Islamic State in the U.S.
Cornell said he didn't do this alone, and spoke about his alleged ties to leaders of the Islamic State in the interview, saying he spoke with other members overseas via an encrypted messaging service.
"Talking about how we should raise Jihad in America. We should form groups and alliances with the Islamic State. When I say groups, I mean what you would call sleeper cells," said Cornell.
And
he believes there are more attacks to come.
"What do I think is coming? Many things. There will be many, many attacks. Like I said, we are ready for the battle over the Capitol."
Cornell said there are others like him throughout the United States.
"We are pretty strong. Yes, yes. In every state like I said. We're in Texas. We're in Ohio. We're in New York City. We're in Washington, DC. We're in every single state you can name, just about."
Cornell said he was fighting against "the continued American aggression against our people and the fact that America, specifically, President Obama, wants to wage war against the Islamic State."
"Yes, they might say I'm a terrorist, but we see the American troops as terrorists as well, coming to our lands, invading, stealing our resources and killing our people, raping our women," said Cornell. "Have you seen the photos and videos of the innocent children being killed, bodies upon bodies, stacked inside the back of a truck? You know, that's what's happening to our kids. America is funding and giving weapons to Israel. Israel is using these weapons to kill our children in Palestine every single day."
'We need to move on'
Its words like those that have saddened Cornell's parents.
Cornell's parents, John Cornell and Angel Carmen, no longer want their names associated with their son's after hearing portions of his interview, despite previously vigorously defending their son.
"Everybody is making him out to be a terrorist and they keep on calling him a terrorist. He is not a terrorist, he is a great person. He is a great son and I love him and I'm going to stick by him," said Carmen at a hearing for Cornell in January.
The day after Cornell's arrest, the two recalled a son with a normal, happy childhood.
"He had a great childhood. He had friends. He and his brother got along," said Carmen on Jan. 15, the day after her son was arrested.
"I'm not saying my son is a saint. The only saints I know are in heaven," John Cornell said.
Three days after his arrest, Cornell appeared in a federal courtroom where his father yelled out, "Christopher, we love you. Don't trust anyone."
Now it may be the father who no longer trusts his son.
When John Cornell heard his son talk about what he would have done if he had not been arrested, Cornell's father admitted it was his son speaking and said, "The kid has totally lost his mind. If he wants to sink himself for life, then we need to move on."
Cornell said his family knew he was Muslim but said they didn't know anything about his beliefs.

The charges

The 2012 Oak Hills High School graduate was indicted on three felony counts, including attempted murder of government employees and officials, solicitation to commit a crime of violence and possession of a firearm in furtherance of an attempted crime of violence. If found guilty, two of the charges carry 20 year-sentences and one carries a lifetime imprisonment.

Cornell plead not guilty on Jan. 21. He is expected back in court on those charges in April.

The defense's case might have changed though.

"The prosecution in this case got a lot easier. When this defendant made those taped admissions, that evidence is clearly admissible in court," said Mearns.
But Cornell said he is not afraid of any punishment he might receive.
"I'm not afraid of the punishment. You must understand this. The punishment I receive in here doesn't come close to the punishment that people like Barack Obama is going to face," Cornell said.
FOX19 NOW's Brad Hawley and Nathan Vicar contributed to this report.
Related:
Judge rules FOX19 NOW can air Cornell interview
Alleged terror suspect transferred to Boone Co. jail
Cornell's social media posts may have been red flag
Tri-State terror suspect pleads not guilty to three felony charges
Copyright 2015 WXIX. All rights reserved.