Text messages paint picture of a woman scorned in Hubers trial
Published: Apr. 13, 2015 at 8:35 AM EDT
|
Updated: Apr. 15, 2015 at 10:37 PM EDT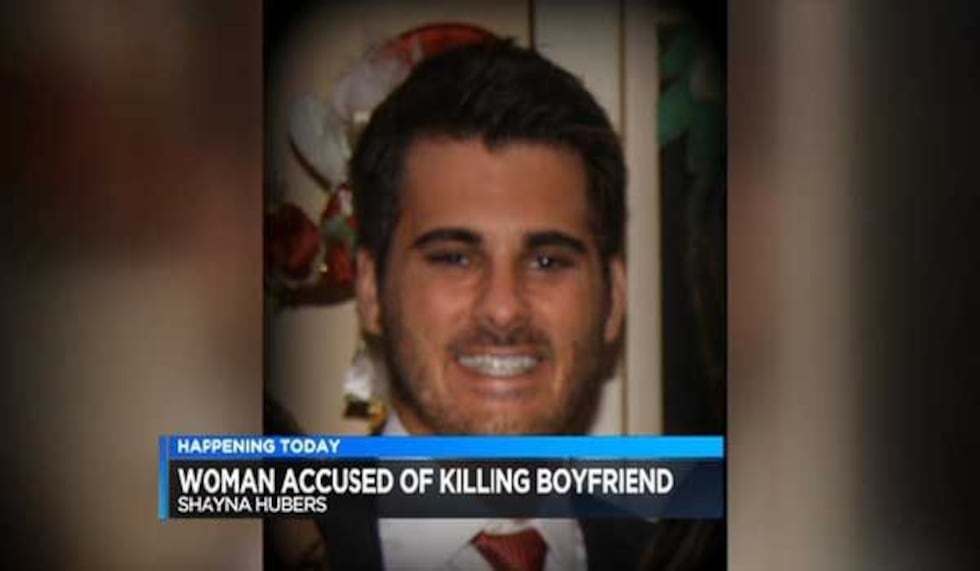 NEWPORT, KY (FOX19) - Testimony continued Wednesday in a Campbell County murder case drawing national attention.
Police accuse Shayna Hubers, 24, of shooting and killing Ryan Poston inside his Highland Heights condo on October 12, 2012.
Prosecutors played a video for jurors showing Huber's interview with Highland Heights police after the shooting. Hubers maintained during the interview that she shot her then-boyfriend in self-defense.
"I, honestly, shot the man in self-defense," Hubers said during a recorded interview with police that was shown to the jury on Tuesday.
Jurors spent most of Tuesday watching that recorded interview with police investigators after the shooting death of Poston.
"I called my mother and said, 'Momma, what did I do? Ryan and I got into a physical fight and I killed him," Hubers said.
Poston was shot several times at his Highland Heights condo in October of 2012. In December of that year, Hubers was indicted for murder. She's been in jail, without bond, ever since.
"I shot him once, and didn't shoot again for a while. I was watching him die. It was so painful to watch him die," Hubers said.
Hubers says the couple fought the night of the shooting. She told police she picked up a gun from a table and fired.
"I shot him probably six times. I shot him in the head. He fell onto the ground. He was laying like this. His glasses were still on. He was twitching some more. I shot him a couple more times just to make sure he was dead," Hubers told police.
On Wednesday, jurors honed in on 10 of thousands of pages of text messages and online communication between Hubers and Poston.
Campbell County Circuit Court Judge Fred A. Stine is presiding over what is expected to be a lengthy trial that likely will last two weeks.
"Block my number, you can tell everyone you dumped me," one text message read.
The text message is among the thousands between Huber and Poston, which investigators say paint a picture of a woman scorned.  The lead detective says he poured over pages of texts and online correspondence, the most chilling of which came on Oct. 2, 2012. Days before Poston's death.
"What was the defendant saying she was going to do with Ryan?" the juror asked Highland Heights Police Chief Bill Birkenhauer. 
"She said she's going to go to the shooting range with him," Chief Birkenhauer said.
"And what does she say to her friend right after she calls Ryan Poston an evil person?" The juror asked.
"She says when she goes to the shooting range with ryan tonight she wants to shoot and kill him and play like it's an accident," Birkenhauer said.
"And then what did her friend Kristy say to her before she went? She said.." The juror said.
"Be careful. No accidents or something of that nature," Birkenhauer said.
"And miss Hubers responded?" The juror asked.
"I'll try not to," Birkenhauer said.
Police Chief Bill Birkenhauer says there was so much evidence, in fact, he was able to determine the couple had broken up three times.
The first time, he says she can tell everyone it was her idea, and he wouldn't object. The second, Birkenhauer says Poston tried to sever ties for good.
"According to these messages, they were breaking up again. Shayna Hubers is begging Ryan Poston not to break up with her. And Ryan Poston eventually tells her to, 'stop texting me Shayna, or Shayna stop texting me,' and he then tells her he's going to have to block her number if he don't quit texting, she's interrupting his business calls," Birkenhauer said Wednesday.
Throughout the investigation, Hubers says the relationship she had with Poston was an abusive one.  However, investigators sa the evidence tells a difference story.
"She says she was thrown into the big screen TV. What did you notice about the television?" the juror asked.
"Neither one of them appeared disturbed at all," Chief Birkenhauer said.
The trial will continue Thursday.
Meanwhile, Poston's family has set up a memorial scholarship at Blessed Sacrament School in Fort Mitchell, where he attended grade school.
More than $70,000 has been received from 195 donors for the Ryan Carter Poston Memorial Scholarship.
 
The scholarship will be given each year to a Blessed Sacrament sixth grader who demonstrates "compassion and caring for others."
 
"The Ryan Carter Poston Memorial Scholarship is a way for our families to honor the memory of our murdered son and brother," said the Poston and Carter families. "We are devastated to lose our son in such a senseless and horrific manner. But this perpetual scholarship to an organization that shaped his character will continue his good work for a long time to come."
 
Blessed Sacrament Principal Maureen Hannon said the school is honored and thankful for the establishment of the Ryan Carter Poston Memorial Scholarship.
Copyright 2015 WXIX. All rights reserved.