Attorney for Madison Jr/Sr HS shooting suspect denies charges against teen
Published: Feb. 29, 2016 at 4:41 PM EST
|
Updated: Mar. 1, 2016 at 3:45 PM EST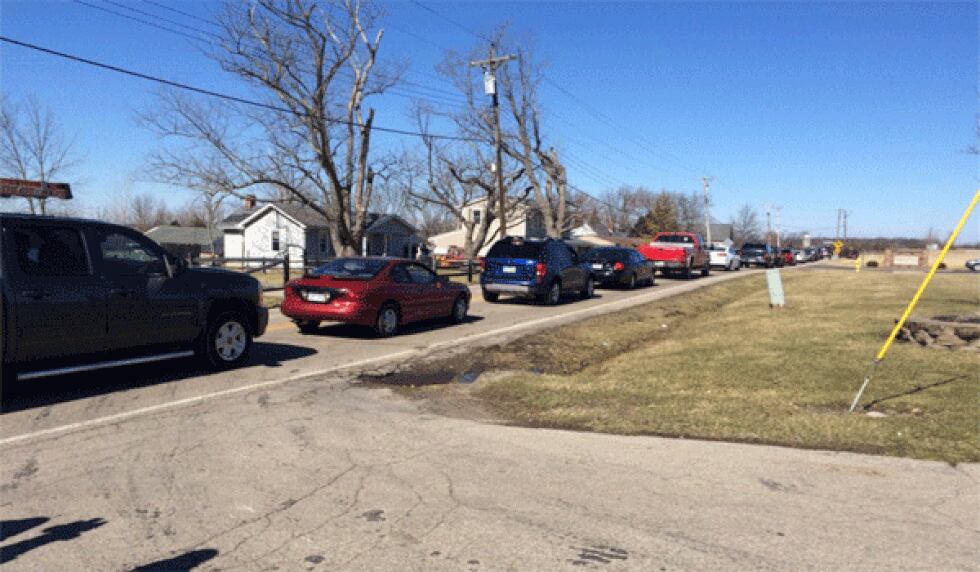 MIDDLETOWN, OH (FOX19) - The shooter suspect that injured four students at Madison Jr/Sr High School on West Alexandria Road will return to the Butler County Juvenile Detention Center after a hearing Tuesday.
James Austin Hancock's first appearance in Butler County Juvenile Court Tuesday lasted only 90 seconds Tuesday. His attorney denied the charges against the teen.
Butler County Sheriff Richard Jones said Hancock, 14, came into the school's cafeteria and began firing at other students using a .380 caliber handgun at around 11:30 a.m. Monday.
"This is a tragic and horrific event that you hope never happens," said Sheriff Jones. "The deputies, first responders and surrounding agencies acted fast and apprehended the suspect quickly. We had help come from everywhere."
Hancock is charged with two counts of attempted murder, two counts of felonious assault, one count of inducing panic and one count of making terroristic threats, Sheriff Jones stated.
He will return return to court on April 5.
Cameron Smith, 15, and Cooper Caffrey, 14, were injured by the gunfire. Investigators are trying to determine if Brant Murray, 14, and Katherine Doucette, 14, were injured by flying shrapnel or exiting the building.
All of their injuries are believed to be non-life threatening and they should reportedly be released within a few days.
CareFlight helicopters took two of the victims to Miami Valley Hospital. Ground EMS took the other two to an area hospital.
"The hospital has a trauma team on standby and we were able to respond without any issues," said the Director of Trauma for Miami Valley Hospital Dr. Peter Ekeh.
Moments after the shooting, Sheriff Jones said the shooter threw his weapon down, ran from the school and was shortly taken into custody near campus.
A school resource officer was on site in the cafeteria but left, according to the Butler County Sheriff's Office. After the resource officer left the cafeteria, that's when the shooting took place. The resource officer then returned and a foot chase ensued for the shooter.
Hancock is a student at the school, according to the Butler County Sheriff's Office.
Officials say they have an idea of a shooting motive, but have not released that information.
Sheriff Jones reported that the shooting may have only lasted for a matter of seconds.
FOX19 NOW has received the full transcript of the 911 call placed from Madison High School just moments after the alleged shooting began.
"I'm at Madison High School, there's a shooting. A kid brought a gun and he started shooting people," the 911 caller said. 
"How many people did he shoot?" Asked the 911 dispatcher.
"I'm not sure. He just pulled out a gun and started shooting." 
"Do you know who he is?" 
"Yeah, his name is Austin Hancock."
"Austin Hancock?"
"Yeah."
"Ok. We're getting out there. Do you know how old he is?"
"He's 13 or 14 years old."
Click here to listen to the 911 call. 
The lockdown was lifted a few hours after the shooting, according to school officials.
Students at the Madison Jr/Sr High School were dismissed as quickly as possible for buses, once the Butler County Sheriff's Office cleared the scene.
"Me and my friends were eating and we just hear a couple of gunshots go off, but we didn't know it was gunshots until we look over and a kid was grabbing his leg and falling," recalled Shelby who was in the cafeteria at the time. "The kid that was shooting ran out of the door and all the teachers were telling us to go in the band room."
Madison Local School District is closed Tuesday, but students will return to school Wednesday with additional staffing and counselors.
[Related: Madison Local Schools Superintendent: 'We want to return to normalcy']
"Our staff will report and together we will begin to put plans in place, including on-site counseling, to support our students when we return to school," the district said in a Facebook post.
Also, all extra-curricular activities are canceled Tuesday.
FOX19 NOW will update this story as further developments are made.
Copyright 2016 WXIX. All rights reserved.