3D printing might help solve Ohio cold case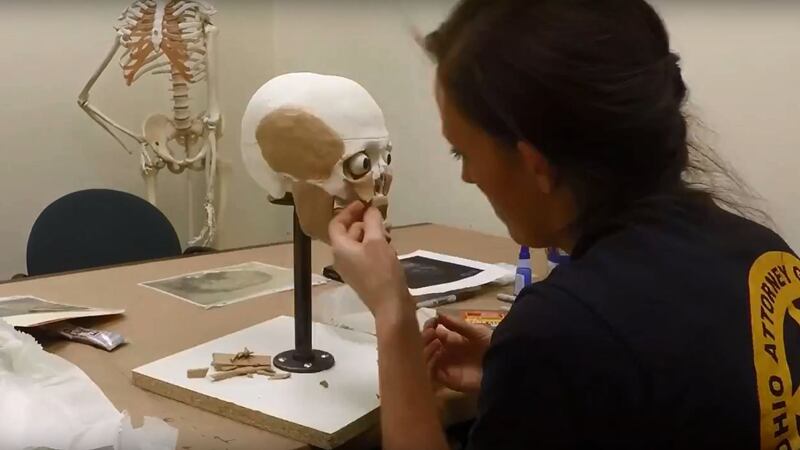 Published: Dec. 8, 2016 at 5:40 PM EST
|
Updated: Dec. 22, 2016 at 5:41 PM EST
FOX19 - Ohio Attorney General Mike DeWine and Greene County Sheriff's office released images of a reconstructed head and face of a woman whose skeletal remains were found in Greene County earlier this year.
The woman's remains were found in a wooded area of Spring Valley Township on May 1. Authorities believe she was likely there for three months to one year before her remains were found.
Her cause of death is unknown. It is unknown if the woman was a Green County resident.
"This was someone's daughter, someone's family, someone's friend, and she deserves to be identified," said Attorney General DeWine. "Now that we have her face, we hope we can soon determine her name. It is our sincere hope that this model looks familiar to someone."
(Provided, Ohio Attorney General's office)
Police believe the woman is caucasian between 25 and 50-years-old and between 5'5" and 5'10."
Authorities say they exhausted all leads in trying to identify the woman.
"When all the DNA testing, dental records, tattoo records, and more leads have been explored, and there are still no answers, we can offer facial reconstruction to local law enforcement," DeWine said in a statement.
The Bureau of Criminal Investigation partnered with The Ohio State University, using a 3D printer to craft a model of the woman's skull. The procedure to craft facial features takes about 50-60 hours.
DeWine's office released a time lapsed video of BCI forensic artist Samantha Molnar showcasing the reconstruction process.
Copyright 2016 WXIX. All rights reserved.