Pike Co., OH sheriff to Rhoden family killers: 'We are getting closer, we will find you'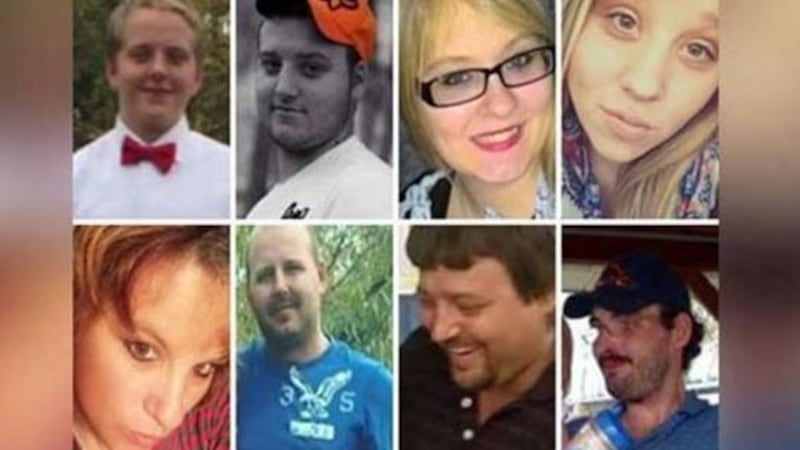 Updated: Apr. 13, 2017 at 11:59 AM EDT
PIKE COUNTY, OH (FOX19) - Ahead of the one year anniversary of the largest homicide case in Ohio history, law enforcement is still trying to piece together what lead to the murder of eight members of the Rhoden family.
Ohio Attorney General Mike DeWine says there has been "significant progress" in the investigation but authorities have made no arrests, making the Pike County, Ohio murders one of the prolific unsolved murders in the nation.
"We will remain in Pike County until this case is solved," DeWine said to reporters Thursday. "We're not going to stop until we're done. This is not a cold case."
More Coverage: Pike Co. Massacre: Prosecutor says evidence 'virtually useless'
DeWine would not comment on if authorities had a person of interest or if the scope of the investigation has expanded beyond Ohio's borders.
Pike County Sheriff Charles Reader says public fear of coming forward with information exists on two fronts: Retaliation from those responsible for the murders and incriminating themselves.
"I got a message for the killers," Reader said in a press conference Thursday. "You came in like thieves in the night and stole eight lives, some of them children in the most horrific way I've seen in my 20 plus year. We are getting closer. We will find you. The family and the victims will have justice one day."
DeWine made said law enforcement's focus is on the murders and the state will work with people who provide information that could incriminate them.
More Coverage: Major security changes mark end of FOX19 NOW Pike County investigation
"People should not be concerned about coming forward if their information incriminates themselves," he said.
On the night between April 21 and 22 last year, eight people were murdered in four homes in Pike County, Ohio. Six adults and a 16-year-old boy were discovered to have been fatally shot execution-style. An eight victim was found with nine gunshot wounds. Three young children and two infants were left alive during the shooting.
In October, the attorney general's office said the perpetrators "had to have been familiar with the properties and the lands around the properties."
The victims in the case are: Christopher Rhoden Jr., 16, Christopher Rhoden Sr., 40, Clarence Rhoden, 20, Dana Rhoden, 37, Gary Rhoden, 38, Hanna Rhoden, 19, Hannah Gilley, 20, Kenneth RHoden, 44.
[Was a drug cartel behind the Pike Co. massacre? Rhoden family talks]
More:
Kendra Rhoden: I could have been the ninth victim in Pike Co. family massacre
Marijuana 'grow operations' found at multiple Pike Co., OH crime scenes
Rhoden family 'angry, hurt, confused' amid Pike County investigation
Copyright 2017 WXIX. All rights reserved.